Some content may contain affiliate links to products which means we could earn a fee on your purchase. Thank you for visiting
Not every dog likes the bitter taste of brussel sprouts, but some dogs go absolutely crazy for them! For those dogs you'll be glad to know that "Yes," dogs can eat brussel sprouts but cooked brussel sprouts will be much easier for your dog to digest.
Dogs Eating Brussel Sprouts From Garden
Some worried gardeners have said their dog will steal brussel sprouts right off the stalk if they're left alone in the garden and I always thought this was funny….until it happened to me.
My brussel sprout stealing experience didn't happen in the garden, but rather when I recently brought home a long stalk of sprouts and without thinking….left them on a kitchen chair.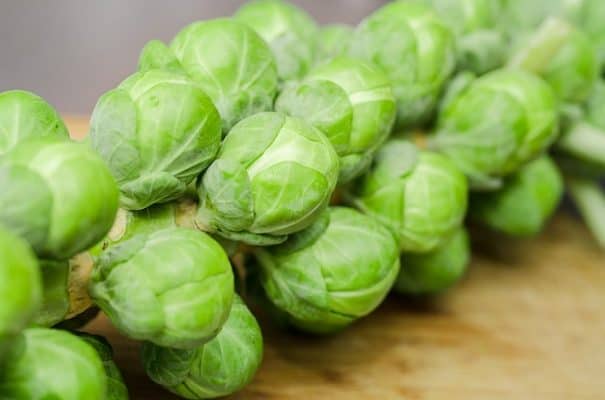 Low and behold the next morning I woke to find my once beautiful stalk of brussel sprouts, slimy and annihilated across my living room floor.
So if you are growing brussel sprouts and don't want your dog going after them, make sure you wrap the plants in a net and if you're lucky enough to buy them on the stalk, keep them out of dog's reach.
My dog is 90 pounds and ate about 20 raw brussel sprouts. While he had no side effects, a smaller dog may have experienced loose stool or diarrhea.
Brussel Sprouts as Healthy Dog Treat Options
Okay, so if you're trying to get your dog some healthy treat options, then brussel sprouts can be a fun and interesting treat for dogs.
Here is the number 1 brussel sprout recipe loved by dogs followed by another recipe that comes in a very distant second.
Number 1 Brussel Sprout Recipe Dogs Love
Like people, dogs love their brussel sprouts roasted. Aside from being extremely tasty, roasting brussel sprouts will make them easier for your dog to digest.
You can roast brussel sprouts whole or you can cut them in half if you're worried about your smaller dog choking on them. Either way here is what you do:
Preheat oven to 400
Toss whole or halved brussel sprouts in a tablespoon of a quality extra virgin olive oil or a quality organic, virgin coconut oil.
Spread the slicked up sprouts onto a baking sheet and bake on your center rack for about 20 minutes.
Keep an eye on them toward the end and roast longer or shorter based on your preference.
If you're going to share these with your dog, keep your dog's portion plain (no salt, no pepper). You can store the roasted sprouts in a sealed bag or jar in the fridge for up to 3 days. These really area a tasty, healthy treat for "kitchen dogs."
Alternate Brussel Sprout Recipe for Dogs
Maybe you're more of the boil or microwave type person? Then here is the recipe for you. Simply boil or microwave your brussel sprouts as you normally would.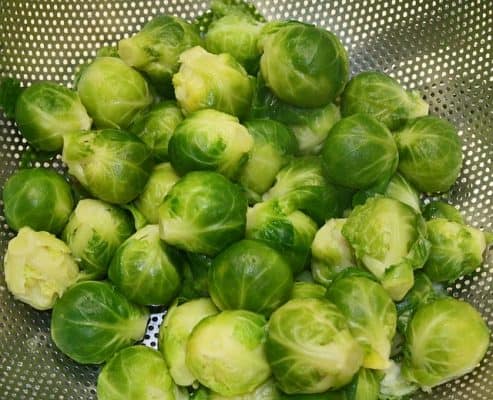 Some dogs will not eat these bland, boiled brussel sprouts but go ahead and give it a try. If your dog eats it, that's great! You have found a healthy low-calorie treat for your dog which is perfect for dogs that need to shed a few pounds.
However, if your dog declines, the boiled or microwaved brussel sprouts, go ahead and add a tablespoon of melted organic, virgin coconut oil over the sprouts…this should be enough to get your dog to eat this healthy treat with the added bonus of getting the benefits of a quality coconut oil.
Many veterinarians recommend organic, virgin coconut oil for healthy coat, skin and for it's antimicrobial powers and support of cognitive function. A little goes a long way.
Curious about other foods dogs can or cannot eat? Check out our other posts including Safe Peanut Butter for Dogs where we explore good peanut butter vs. deadly peanut butter and our other post titled: Can Dogs Eat Almond Butter?
Thanks for stopping by SeniorDogDays!
Dear Valued Reader,
We're trying a new approach. Maybe you didn't notice but throughout this article, you weren't bothered by annoying popup ads begging for your email address.  And that's because Senior Dog Days is on a mission to keep dogs safe without making you watch videos or share your email before giving you the important information you're looking for.
If you appreciate this approach and can spare a buck we promise to put it to good use.  All donations go right back into this site and cover expenses that we pay out of pocket all for the love of dogs.
There is no such thing as a small donation.
[wpedon id=2012]