Some content may contain affiliate links to products which means we could earn a fee on your purchase. Thank you for visiting
For those of you that like to visit SeniorDogDays for the in depth reviews about dog products (in particular, meds and supplements) this post will not disappoint!  If you are considering trying CBD or if your vet has recommended CBD for your dog (pain, anxiety or seizures), this CBD for Dogs Review might help.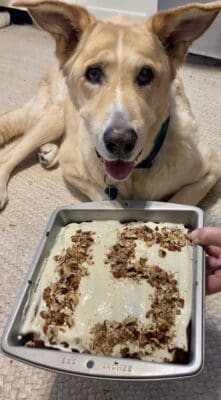 From the initial CBD recommendation, to the actual purchase: this is a comprehensive compilation of everything I went through before taking the plunge and trying a CBD product for my own 12 year old senior dog
March 2022 update: This review was first published in August 2019 when my arthritic senior dog was 12 years old. He turned 15 in March and we are still happy with the results.
My Senior Dog's Activity Level
We walk daily and he still goes up and down the stairs very well for access to the backyard. We've been using Nuleaf Naturals CBD Oil and Holistapet Capsules (link to Holistapet) and LOVE them both.
He now goes to physical therapy for some water treadmill exercising and we still highly recommend either of these CBD products (or both) for all the reasons outlined below.
Try them for your dog at a discount when you use our code: SENIORDOGDAYS at checkout! Enjoy the full review!
Upcoming Dog CBD Oil Reviews
Coming up, you'll see the extensive research and coverage of 4 Major CBD Suppliers.  And although there are plenty other companies out there trying to convince us that their product is the best,  the 4 major CBD for Dogs suppliers in this review are:
ElleVet
HolistaPet
KingKalm
Nuleaf Naturals
---
By the end of the article, you will learn every criteria that was used in our family's in-house scoring system and why each criteria was so important to the research.
As with any supplement review at SeniorDogDays, we only recommend products that are being given to our own senior dog so that we can share ACTUAL results and the selection process for those who are interested.
This article is LONG, and you have a choice here. Read the entire article and learn the backstory of why CBD for dogs entered our lives or, you can skip to the results table and get to the point. You'll be taken right to our favorite CBD oil for dogs along with coupon codes to try our recommended brands at discount.
Click Here to Get to the Results:
Jump To CBD Results.
Here we go…
---
Welcome to my one month research project that helped me decide which CBD oil to start giving my dog (and myself).
Why is CBD is So Popular Now?
Whether it's oil, tinctures, treats or creams, the reason CBD for dogs (and humans) is such a hot topic right now is because just recently, in December 2018, The Hemp Farming Act of 2018 was approved at the federal level.
How the Hemp Farming Act Changed Laws
In brief, this law changed the status of hemp plants containing less than 0.3% THC (the compound responsible for getting "high") from a controlled substance into an ordinary farming commodity.
So currently, at the time of this writing, CBD oil that comes from these low THC variety cannabis plants is legal to manufacture, sell and purchase across all 50 states. And because it is considered a "supplement," CBD is not regulated by the FDA, and the market is saturated with CBD oil extractors vying for our dollars.
How We Learned About ElleVet CBD for Dogs  
Prior to December 2018, all cannabis was lumped together and illegal at the federal level, so it's no wonder we never really heard about its medicinal benefits.   It was quite by accident that our family learned about CBD during a vet appointment in early 2019.
The CBD Vet Visit
My senior dog, Frodo, was getting his 6-month, routine blood test to check his thyroid and liver levels. While we were on the subject of medications, I asked about reducing or replacing Frodo's NSAID called Vetprofen. 
For those of you that don't know, Vetprofen is a prescription pain reliever for dogs with arthritis or other pain. It's great, but has a history of causing liver or kidney issues when used daily, year after year after year and I'd like to ween him.
We were also concerned about a new behavior where Frodo was displaying a bit of separation anxiety which resulted in very heavy, labored panting and drooling whenever we went outside the house …and that was completely out of character. 
On top of that, his arthritis continues to progress and although we stay on top of it with medicines, supplements and proper bedding, it's an uphill battle and there is always a new symptom to manage as this arthritis progresses.
Introduction to ElleVet CBD
Anyway, that's the visit where we first heard of CBD for dogs and our Veterinarian was certain that CBD oil for dogs could address all 3 things we were worried about:
One – Progressing arthritis in my dog's spine and hips with a new range of motion issue caused by hock arthritis. 
Two –Separation anxiety which was not normal for him.  My vet attributed this to getting older, and having nearly complete loss of hearing.
Three – Possibly replacing NSAID Vetprofen with CBD .
Exciting Right!?  Show me the CBD!! 
Not so fast…..
Never Buy a "Vet Office" Supplement Without Research – My Solemn Vow
If you've every bought a "vet only" product only to be thoroughly disappointed, you're in good company.
After it happened to me, I vowed to NEVER AGAIN buy a product on a whim at my vet's office, and to thoroughly research every product I put in my dog's mouth.
And so when my vet suggested I try CBD and offered to send me and my dog home with ElleVet, I held true to my vow and told her I would love to try ElleVet CBD but I wanted to do some independent research before spending over $100 and feeding my dog an unfamiliar product.
My Vet's Response for Wanting to Research CBD for Dogs
My vet was supportive. She encouraged me to read reviews and look into the supplement CBD. But she did have some advice … whatever I did, make sure the supplier used USA grown hemp and she insisted on staying organic.  She also suggested that I stay as pure as possible to avoid sub-par added ingredients. 
Studies were promising, but very, very limited. As such, my vet warned me that I wasn't going to be able to read extensive case studies and trials and everything would have to be taken with a grain of salt.  – And that goes for this review too: use my review to support your own research and by all means find out everything you can. This is strictly one dog owner's opinion and you may want something different from a CBD.
Duly noted!  She wished me well and said to call the office if we wanted to try ElleVet.
So that particular vet visit was the entire basis for my CBD for dogs research which began right after that appointment.  I spent about a month in research mode, which ended with a purchase in June and about 2 month's worth of data to report and share with you in this article
CBD for Dogs Reviews: Research and Education Phase
Boy was my veterinarian right!  Most CBD Oil For Dogs Reviews were nothing more than a thin descriptive with a VERY short list of pros & cons followed by an affiliate link for purchasing.  Not once did I find a review that recommended a single product for solid reasons or by a dog owner actually using and comparing products.   
I really had no choice but to slow down and start educating myself from the very beginning and learn about the plants, the process, the extraction method, additives and how they all relate to offering the best product possible.
Part 1 of My CBD Research for Dogs
My initial research was spent understanding the difference between hemp, marijuana,CBD, THC and how a dog (or human) goes about using these elements therapeutically.  You can read all about this early part of my research in my article here: CBD vs Hemp seed oil for dogs.
After nearly a month of education, I was able to narrow down exactly what I was looking for in a Hemp CBD product for my dog…and quite frankly myself.  Since my dog and I both have arthritis in the spine and hips, I'm the first to try a product when it first enters the house.  And that's the main reason why I lean toward products that can be used by humans and pets.
What to Look For in a CBD for Dogs …and Why
After looking at countless websites for a month, I became quite skilled at weeding through the hype so I could get the information I was seeking. 
Between my vet's advice and extensive research, here is what I knew I wanted in a CBD for my Dog and my reasoning:
For My Dog: I want a CBD Oil that is Extracted from Organic Hemp
Why?  Because I didn't want to chance residual pesticides making their way into my dog's bloodstream.  I learned that Hemp is a high and rapid absorber of its soil and environment. 
For those of you follow me, you know my dog eats a homemade raw diet and all of his treats are homemade. It wasn't always this way, but his health has improved dramatically over the past 5 years since making the switch.
I do my level best to balance a high quality diet, free of pesticides and chemicals while staying within my means (budget).
I wanted My Dog to Have a CBD Oil that was Extracted from NON-GMO, USA grown Hemp
Why?  My vet made a point of mentioning this and I trust USA organic farmers to be playing by the rules. Hemp sourced from other countries may not have the same regulations when it comes to farming and so USA grown Hemp, that is not genetically modified, is a no-brainer for me.
The CBD Oil Had to be Extracted Using the CO2 method – NOT Alcohol or Ethanol
Why? This one was the hardest for me to reconcile and where I spent the longest amount of time in research mode.  All methods use some type of food approved solvent but the CO2 method was the only method that resulted in zero residual. 
I also began to research extraction from a company perspective.  For instance…Why exactly would a company choose one method over the other?  That's when I was able to decide beyond a shadow of doubt that I wanted a CO2 Extracted CBD product.
CO2 Extraction vs. Ethanol or Alcohol
I learned that, from a manufacturing perspective, the CO2 method costs considerably more because of the special (expensive) equipment needed.  The CO2 method also requires high expertise and a lot of training and this extraction process is the slowest of them all. 
On top of that, most 3rd party source agreed that the CO2 method was the cleanest and best method for preserving the precious hemp plant compounds that need to stay intact.
What I Learned About Ethanol and Alcohol Extractions
There could be many reasons why a hemp CBD extractor would choose to soak their hemp in isopropl alcohol or ethanol.  Both of these extraction processes were repeatedly touted as cheaper methods that required less equipment, less skill, minimal investment and produced far more in volume.
And of the two, isopropyl alcohol was very much frowned upon. Here is a snippet regarding alcohol and ethanol extractions:

It should also be said that isopropyl alcohol contains more toxic substances than pure ethanol (which actually shouldn't contain any). Thus, we recommend to use isopropyl exclusively to clean your utensils and glass pipes and not for performing extractions.

manoxblog.com
So, if you're leaning toward isopropyl vs. ethanol, I would prefer ethanol.
But, I decided on the CO2 method.
I wanted Full Spectrum Hemp CBD oil for My Dog
Why? CBD Isolates were not as promising.  Broad Spectrum CBD removed the miniscule (0.3%) THC that was thought to be responsible for achieving the full entourage effect necessary for therapeutic use. Here is a summary of the entourage effect:
There is something called the entourage effect whereby the body responds more readily and positively when ALL extracted parts of the of the hemp plant are introduced into the bloodstream simultaneously.  If you are looking into CBD for therapeutic reasons, the entourage effect is worth trying to achieve.  The full entourage effect cannot be achieved with a CBD Isolate or a Broad Spectrum.  It is achieved with a Full Spectrum Hemp CBD Oil.  Easy to remember:  Full Plant=Full Spectrum=Full Entourage Effect.
I Wanted Potent CBD & Less Filler
My vet would have started my big, 90 pound dog on approximately 30mg of CBD per day – 15mg in the morning and 15mg in the evening
Over the course of my research, I learned that CBD oil is sold in small size bottles but the amount of CBD per bottle can vary drastically. For the sake of consistency, we'll use 1 fluid ounce bottles when comparing each company's CBD oil for dogs.
1 Ounce bottle = 30 ml.
In most cases, each CBD offering comes with an eyedropper and each full eyedropper should be about 1 ml, which means a 1 ounce bottle has about 30 (one ml) doses.
The higher the CBD milligrams per ml., the less you have to use and the longer it will last. For instance, if a one ounce bottle contains 250 milligrams of CBD it means each full eyedropper (or each ml) contains 8.33 milligrams of CBD – 250/30=8.33
If the one ounce bottle contains 750 milligrams of CBD per ml., then each eyedropper (one ml) contains 25 milligrams of CBD – 750/30=25
Obviously, we want to compare apples to apples when it comes to price so a product that has 250mg of CBD per ounce should be 3 times cheaper than a product that contains 750mg of CBD per ounce.
I Wanted the Ingredients in MY Dog's CBD to be Pure Hemp CBD
Why? Because, if I'm going through the trouble of finding a hemp product that is full spectrum, organic, USA grown, CO2 extracted…why would I turn around and accept an additive?  At least that's my logic.  Plus, my arthritic dog already gets coconut oil, krill oil and human grade supplements like glucosamine, chondroitin and MSM and that's why I wanted 100% Hemp CBD.
I want to know if Hemp CBD works for my dog. Adding other oils (that are also known for arthritic relief) would mean I wouldn't be able to conclusively attribute success to Hemp unless I used a pure hemp product.
And finally….
3rd Party Lab Results Had to Be Posted
Why?  Because every batch extraction is different and in my opinion, the companies that were having their products independently tested and sharing the results in an unregulated industry meant something to me. 
I mean wouldn't it be great if before buying a Vitamin D or B12 supplement you could see whether or not you're getting what you're paying for?  To me, easy to access, easy to understand 3rd party testing, Certificate of Analysis (COA) was mandatory.
CBD Results
So here is a bullet list recap of everything I was looking for in a CBD supplement for my dog:
Organic
USA Grown Hemp
Non-GMO
CO2 Extraction
Full Spectrum
Hi Potency
100% Hemp
COA – Posted 3rd Party Lab Results
And without further ado, here are all my WANTS Plotted on a Visual Table and graded (school style).
CLICK TO ENLARGE
Based on what I was looking for in a CBD for my dog's arthritis and anxiety, HolistaPet and NuLeaf Naturals tied for first place with a final grade of A++
Because they both scored an A++, I'll post Affiliate Links to both products so you can read reviews, check pricing and see if you want to give one of these CBD products a try. Both CBD for dogs can be tried at a discount using our website coupon code: SENIORDOGDAYS
Here are the affiliate links and discount codes:
NuLeaf Naturals for Pets (product link) – Save 20% off regular price with checkout code: SENIORDOGDAYS
HolistaPets (product link) – Save 15% off regular price with checkout code: SENIORDOGDAYS
Why Buy NuLeaf Full Spectrum CBD?
My personal choice for my first CBD product was NuLeaf for the following 2 reasons;
I wanted a CBD Oil that I could share with my dog
I like NuLeaf's philosophy. They make ONE product: CBD Oil from a very special strain of Hemp they grow. They never change their potency, and the only variation in their product line is the size of the bottle.

Do you want to try CBD for the first time?  Go with a small trial sized bottle.  If you love it…buy a bigger bottle next time…that's their philosophy.
I also called Nuleaf and asked lots of questions about their CBD. The person who answered had every answer and went into great detail explaining everything about their hemp.
I pay more for NuLeaf but it's cheaper than buying a human CBD plus a pet CBD,so for me, NuLeaf is the cheaper CBD route for my family. Here again is NuLeaf (Product Link)
use code: SENIORDOGDAYS and save 20%
Is there anything I didn't like about NuLeaf? Like my favorite phone, I just wish is was cheaper….that's all.
Why Buy Holistapet CBD Oil For Dogs – Full Spectrum?
If you have no desire to try CBD oil for your own aches and pains or other therapeutic reasons, you'll probably find HolisaPet's CBD price more attractive. Plus, you can buy treats and pills as well as oil. Here again is Holistapet (product link). – use code: SENIORDOGDAYS and save 15%
Holistapet Dosing – To See Dosing information for your pet's weight, click this affiliate link and scroll down. Holistapet Dosing Information (link)
Just this past August I added Holistapet's capsules to our routine for 2 reasons. One: my dog is going through a knee injury and needs even more CBD and Holistapet helps my family budget. And the second reason is because I had to travel and I wanted something super easy for my dog sitter to administer. He simply wraps a Holistapet capsule in peanut butter and "down the hatch" it goes.
Is there anything I didn't like about Holistapet: Yes, their chat customer service is busy which means – slow. If you need to contact them, try early morning or better yet, call and leave a message. The reps do not seem specialized, so it may take a different person to answer your questions.
Bottom Line: Whether you want to try NuLeaf or Holistapet, I would absolutely, 100%, recommend either one of these CBD oil products for your dog. And that's only after going through the research and giving both to my own senior dog.
Let's talk about CBD dosing…
How Much CBD to Give a Dog
I would recommend discussing the CBD dose with your vet in milligrams per day vs. any other method. That way, you can calculate the proper dose for the product you end up purchasing.
NuLeaf CBD Dosing for My 90 Pound Dog
NuLeaf CBD for Dogs is potent.  It delivers at least 2.4mg of CBD per DROP and I give my dog about 10 tiny drops per day or 24mg of CBD.  That's pretty close to what my vet recommended at 30mg/day. To see their dosing information, click here to be taken to their pet CBD page and see their dosage chart: NuLeaf Dosing for Pets (affiliate Link)
According to the label, I could give my 90 pound dog more, but the team at NuLeaf recommended I start slow and see how my dog responded.  Since my dog is responding well to 24mg per day, their 30ml bottle lasts me just over 2 months. I dispense it into something tasty and he is none the wiser.
For dogs (under 25 pounds) a 30ml bottle of Nuleaf could last 10 months.
My dosing Update (Sept 2019) – because my dog sustained a knee injury and is going through water rehab we upped his dose to 40mg of CBD per day (vet approved). You can read about our increase here (link). Frodo is doing great in rehab and climbing stairs like a champ again! I continue to struggle with keeping bunnies out of the yard to stop tempting his instincts!
CBD for Dogs Results After 2 Months
What I'm seeing after 2 months of CBD
The separation anxiety has stopped..completely
We've cut his vetprofin/carprofen dose in half
His loss of mobility from newly developed hock arthritis is improving and there is a lot less limping.
He seems happier and is tossing his toys in our laps again.
 I will be testing a slightly higher dose once I'm confident that he does well off of his NSAID. 
Why ElleVet and KingKalm CBD Didn't Earn My Business
At the end of the day, you have to pick where you're going to spend your dollars. Both of these products have plenty of great reviews, they just didn't have everything I was looking for.
ElleVet CBD for Dogs
Being the CBD my vet pitched me, ElleVet was the first website I visited. But as my research unfolded, unfortunately ElleVet didn't meet many of my needs. Here is why:
ElleVet extracts their CBD with Alcohol, which I personally didn't want
ElleVet agreed that Full Spectrum gives the best results and they say they are a Full Spectrum, but they Sell Broad Spectrum. (screen shots below)
In order to see their 3rd party testing, you would have to call every time. I called and asked a rep why they don't put them on the website she said it would take them too long to this every time they had new lab results.
ElleVet includes grapeseed oil and I was looking for hemp plant only.
As for whether or not ElleVet is a broad spectrum or full spectrum is very unclear. So, I was left to assume the ingredients on the bottle would supersede their website content. Here is a snapshot of Ellevet's website where they agree Full Spectrum is Best: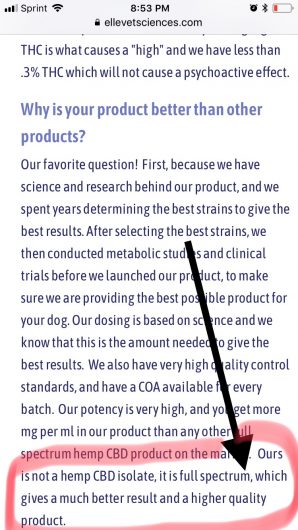 Here is a Snapshop of their Ingredients when you go to buy: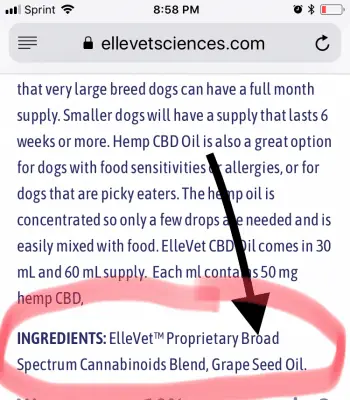 Whether it's broad of full, their alcohol extraction method was enough for me to take them out of the running for my business. Also, I didn't want to ask for 3rd party results prior to every purchase.
Is there anything I liked about ElleVet? YES! It was potent and priced fairly! Plus, Kudos to ElleVet for funding a clinical trial at Cornell. I did read that the trial formula used olive oil. It would be nicer if it were done with grapeseed oil because that's what they're using at the time of this writing. Regardless, the funding is commendable.
KingKalm CBD for Dogs
There is a lot to like, but ultimately a broad spectrum suspended in krill oil is not what I wanted for a CBD product for my dog. I was intrigued though and here is why: I spend a decent amount of money every year on Krill Oil for the family, including our dog.
I did think for a moment, hey…if this is the good krill (not extracted with alcohol, properly stored etc., ) this could be a dual purpose supplement for my dog.
I reached out to King Kanine and asked for their source of krill. Unfortunately, their answer was inconclusive. I decided that I would stick with the Krill I buy vs. taking the chance that King Kanine's krill met my needs.
Besides that, KingKalm CBD max offering was only 600mg which is 20mg of CBD per mL and I wanted at least 50mg of CBD per mL.
In Summary
Anyone who has spent time researching products for their dog knows the feelings of: information overload, contradictions, unclear marketing and sifting through countless suppliers that want your business.
I experienced all of that and more. Out of all the research I've done for my dog's supplements and health, this was the most exhaustive, by far. As a result of this extensive research, there were moments where I actually knew more than a company representative, and that's the nature of an unregulated product.
In the end, I'm thankful for having started from the beginning and gained a true understanding. I stand by what I'm looking for in a CBD for MY dog and recommend, wholeheartedly either of these two companies because I buy them myself:
NuLeaf Naturals CBD for Pets (Link to Product)use code: SENIORDOGDAYS and get 20% off NuLeaf
Holistapet CBD for Pets (Link to Product)use code:SENIORDOGDAYS and get 15% off Holistapet
Thank you for visiting SeniorDogDays!