This page may contain affiliate links. If you buy a product, we may earn a small fee at no cost to you. As an amazon associate, we earn from qualified purchases. Thanks for your support!
SeniorDogDay's product recommendations are listed here and they are organized by my dog's stage of arthritis. You can click any blue link and it will take you directly to the right section in this guide
In each section, I will link to full length reviews so you have easy access to continue your research. Thanks for visiting!
Stages of Dog Arthritis – Our Journey through Joint Care & Mobility Issues
Can you prevent arthritis from developing in dogs? I can't even prevent it from happening to myself, so it makes sense that we were not able to prevent Frodo's arthritis.
It took several years, but we've had a front row seat as Frodo progressed through the stages of dog arthritis. He will be 15 years old in March 2022.
Even though he is well into the SEVERE Arthritis stage, he's very mobile!
Here is what we've used and has been recommended to us along the way.
We'll break our journey down into the following stages
Before Arthritis
Dog Supplements Before Arthritis
We learned that the 3 pillars of joint care for dogs are:
Glucosamine
Chondroitin
MSM
Human Grade Options for Dog Joints
I love my vet for recommending Glucosamine, Chondroitin and MSM as soon as my dog turned SIX.
Even though he didn't display any signs of slowing down at that age, we all agree that these early supplements are contributing to his high quality of life and mobility now that he's in his senior years.
Nearly 9 Years and counting, I STILL use NOW Brand, Human Grade Pills for Frodo and the human family. Simply wrap them in small portion of american cheese or put a little peanut butter around it. You can just take it with water!
Ask your vet about human grade pills and then ask for their recommendation for dosing.
—OR—
Zesty Paw Mobility Bite Line
If you don't want to be bothered with wrapping human grade pills, you can try a mobility product line like Zesty Paws.
I've enjoyed using the Zest Paws Turmeric line (more on that later).
Check the price on both amazon (link to zesty paws) and chewy (zesty on chewy) because one platform might be running a sale.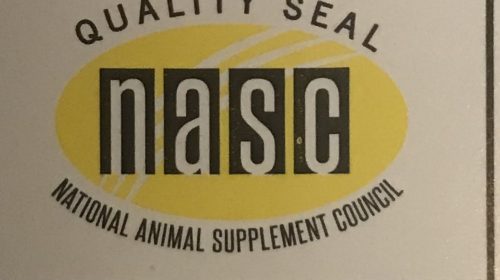 Bonus: Zesty Paws is a member of NASC (National Animal Supplement Council), a nonprofit group dedicated to improving and standardizing the quality of products in the animal supplement industry.
Zesty Paws has a wide range of products for different purposes. Be sure to stay in the "mobility" arena if you're looking for joint health.
Early Arthritis
Early Arthritis
When your dog is diagnosed with early arthritis, it's important that you KEEP your glucosamine, chondroitin and MSM routine (listed above) but then we were advised to add in some of the following.
Movoflex Soft Chews 
The ingredients are so unique and my dog responded extremely well.
I give Movoflex every night and it has become my senior dog's nightly treat. He has been taking Movoflex for years and we love the product.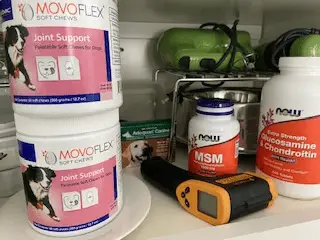 We have used both amazon (price check) and chewy (price check) to buy our Movoflex. When we buy from Chewy, we save if we buy 2 and do the autoship.
So check prices on both platforms.
Bonus: Movoflex is also a member of NASC (National Animal Supplement Council), a nonprofit group dedicated to improving and standardizing the quality of products in the animal supplement industry.
Omega-3 Fatty Acids: Like Krill Oil
For seafood tolerant dogs, it's extremely beneficial if you can add some high quality Omega-3's. Not only will this improve circulation to muscles, your dog's coat should visibly improve.
For a high quality Omega-3 that the whole family can take, I like Captains Krill Oil. This is because they extract the oil out at sea and do not use harsh solvents.
They also encapsulate quickly and their product is not stored in drums for long periods of time.
For more reading about fatty acids and dangerous extraction methods you can read my research project here: Fish Oil Side Effects.
Anti-Inflammatory Supplements: Turmeric
I personally take Turmeric and my vet approves of me giving my dog turmeric for his arthritis. You can do this in one of two ways: human grade or dog chews and both are found at amazon.
Human Grade Turmeric for Dog Stiffness and Arthritis
As you know, I'm a fan of saving money whenever possible by using human grade supplements and I love NOW brand supplements.
Ask your vet about dosing because it will depend on their size.
Mobility Dog Chews with Turmeric
If you prefer chews because they are easy to administer, I recommend Vet Virtue (check price) or Zesty Paws (price check)
My dog has had them both and he eats them without issue.
I've also used these chews by plano paws. They came in handy as a way to give glucosamine, msm, eggshell membrane and turmeric all in one chew.
However, my preference is to stick with the human pill. That's because I take turmeric myself and it's just easier to offer my dog the same. Also, some chews are made with coconut oil, which can be great, but I already give my dog coconut oil every single day, both morning and evening.
This is why I always read a product's complete ingredient list. Before you make a decision, see if there will be an overlap of ingredients that are already in his regular food or treats.
My Early Arthritis Supplement Routine: Recap
I give 1 Movoflex chew every night and I alternate between Captain's Krill & Turmeric each morning. My vet said I could give it all every single day, but I do try to extend supplements by alternating days.
Do whatever your family budget allows and follow your vet's suggestions.
Pictured Here are the 3 products I started using when my dog was first diagnosed with arthritis.
They are in addition to his preventative joint supplement routine which involves glucosamine, chondroitin and MSM.
Severe Arthritis Stage for Dogs
Severe Arthritis
Severe arthritis can be visually observed by the way a dog walks (or cannot walk) or in the case of my dog, it can be severe according to x-rays.
When vets see my dog's x-rays, they cannot believe he walks as well as he does. This is why I keep up the supplements and spend hours researching the products that are marketed at senior dog owners.
Here are the 2 things I am using to treat my dog's severe arthritis and keep him as mobile as possible for as long as possible.
Adequan Canine Muscle Injections
Your vet must prescribe this but then you can buy it on Chewy.
Adequan is a series injection that you can do at home (I do it) or your vet can do in office. You can read my entire review here: Adequan Canine Review
CBD for Dogs with Arthritis
CBD has been a game changer. If your dog has arthritis, I highly recommend CBD Oil, treats or capsules by the companies coming up.
I have also found CBD to be beneficial on nights where Frodo has a hard time settling in. This has only begun recently. CBD drops seem to work every time.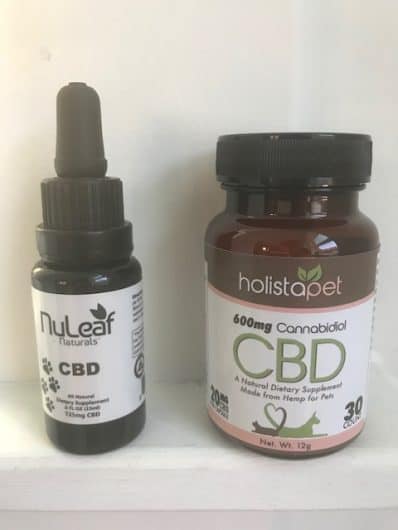 CBD Oil for Pets by NuLeaf Naturals
The oil made by NuLeaf is more expensive but it's incredibly potent, high quality and it's for human arthritis too. Link to NuLeaf Naturals Pet CBD Oil.
You can save 20% on your NuLeaf CBD Oil order by using our website name: SENIORDOGDAYS in the coupon code section at checkout.
CBD Capsules by Holistapet
I like Holistapet capsules because they travel well and my dog is extremely used to eating capsules wrapped in cheese or peanut butter.
Plus, the capsules are very economical and can go further for my extra large breed dog. You can have a look at Holistapet's entire line of oils, capsules and treats here: Link to: Holistapet CBD for Pets and save 15% with Code: SENIORDOGDAYS at checkout screen.
Check back often as this page is updated anytime I research and try a new arthritis supplement for my senior dog.
Thanks for visiting SeniorDogDays!