Some content may contain affiliate links to products which means we could earn a fee on your purchase. Thank you for visiting
When it comes to mobility issues, my senior dog Frodo has more than his fair share. And just when we seem to get a handle on keeping him mobile and pain free, something else pops up and we have a brand new set of circumstances to figure out. Our latest setback is a knee injury of an unknown source (probably a bunny chase in the backyard).
However it happened, we are now going to physical therapy twice a week and we are managing pain by increasing his CBD Oil from a therapeutic dose to a medicinal dose and I thought I'd share our process for using CBD oil for dogs with mobility issues
My Dog's Mobility Issues
For those of you that follow SeniorDogDays, you know that Frodo is an extra-large breed (90 pound) senior (over 12) with advanced arthritis in the following locations:
spine
both hips
right hock
right ankle
Based on the above, you're probably imagining a dog that can barely walk, but actually; he had been doing quite well. We attribute his mobility to starting his joint supplement routine early (age 6), keeping him active, giving him supportive bedding, feeding a raw diet and by staying on top of inflammation and pain with natural supplements like glucosamine, chondroitin, MSM, krill oil, turmeric, boswellia and our latest addition CBD oil and CBD Capsules for dogs.
I know, I know… that sounds like a lot but all of these supplements entered his life gradually, and at different stages of his mobility issues. Plus, we are far more interested in the supplement route than the prescription route.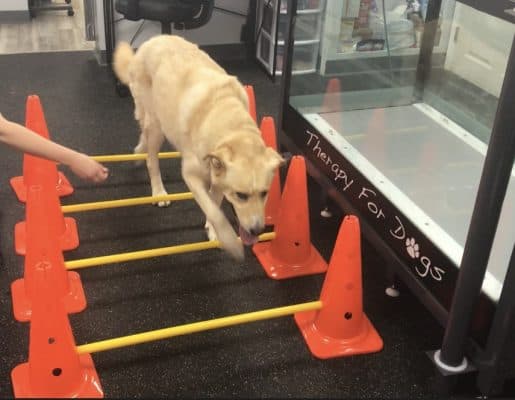 That's why we are increasing his CBD vs. increasing his NSAID intake while he is recovering from his knee injury. Not to mention he is extra sore due to all the work he is performing during his physical therapy sessions.
He is pictured here at physical therapy and also in the featured photo on the water treadmill.
What to Look for in a CBD Oil for Dogs with Mobility Issues
I spent over a month in research mode before I found what I was looking for in a CBD Oil for dogs with mobility issues. What I learned might come as no surprise in the "supplement" world and that is: there is a lot of crap out there! And by crap I mean CBD made from Chinese Hemp plants, and CBD oil made from pesticide drenched hemp.
On top of that, there were countless, overpriced CBD imposters which included tiny bottles of hemp"seed" oil or "hemp" treats that claim to ease pain and shrink inflammation but they have absolutely ZERO milligrams of CBD Oil.
So as you carry out your research, I can help lead you in the right direction. Here is what I look for in a high-quality CBD for dogs…or even people.
Organic USA Grown Hemp
Full Spectrum (Not Broad, Not Isolate)
CO2 Extraction
3rd Party Lab Testing Posted on Website (every batch)
Potent
CLEAR CBD milligram count on the bottle (not hemp milligrams)
Pure Hemp Product (try to avoid added oils that can go rancid)
This is just the tip of the iceberg, but if it's all you look for: you will succeed. If you want an in-depth education into CBD and why all of the above matters, I invite you to peruse my two articles on CBD research here: Hemp Seed Oil Vs. CBD Oil and 4 CBD for Dogs go Head-to-Head (Review).  Both of these are in-house articles you can read if you're looking for a better understanding of CBD for dogs.
Best Organic CBD Oil for Dogs With Arthritis: What I Use
I use NuLeaf Naturals (affiliate link) and Holistapet (affiliate link) and They are proving to be the best organic CBD Oil for dogs with arthritis like my Frodo. Both have a place in our CBD routine which I'm about to share. If you decide on either of these products, I have a coupon code you can use at checkout coming up in the next section.
First, here is what each product looks like: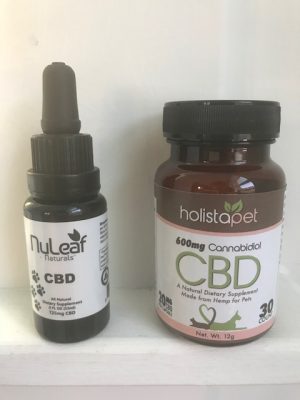 The reason I have two sources is because I like using both an organic CBD Oil (tincture) and I also like the option of an organic CBD Capsule for my dog. Quite frankly, I also like CBD cookies (treats) but when your dog is 90 pounds, treats are a lot more expensive.
Anyway both NuLeaf and Holistapet exceeded my expectations and scored and A++ during the lengthy research project. Personally, I alternate using both CBD products for my dog and I've been known to take these products myself when my own arthritis flares up.
Here are the reasons I can say these are the best organic CBD Oils to give your dog with arthritis.
Why NuLeaf Naturals CBD for My Dog's Mobility
If cost is NOT a huge factor please consider giving Organic NuLeaf CBD a try for your dog with arthritis or other mobility issues. While it costs a bit more, NuLeaf extracts their CBD in 2 phases so they can preserve the plants terpenes which also help alleviate pain and inflammation. This extra care is special in the industry and makes NuLeaf CBD very potent and complex.
If YOU also want to take the product for your own pain management or health issues use NuLeaf Naturals CBD. They only make 1 product: CBD Oil and it's for dogs, cats, horses and people.
To read more about Nuleaf and read hundreds upon hundreds of amazing reviews, click here: NuLeaf Naturals CBD for Dogs ( link to product) –Save 20% with our affiliate coupon code: SENIORDOGDAYS at the checkout page.
How I Dose NuLeaf for my Dog
Talk to your vet and get their input. I give my 90 pound dog between 5-10 drops of NuLeaf (10mg-20mg of CBD) throughout the day based on how he's acting. A normal day might look like this: about an hour before our walk he gets 5 drops (10mg) and then I may give him another 5 drops shortly before bedtime.
What I Like About Holistapet CBD for My Dog's Mobility Issue
Budget friendly oils, treats and capsules.
When cost is a factor: Holistapet for Dogs will be more affordable. Their terpene profile isn't as complex as NuLeaf's but they are doing everything right and at a price most families can afford.
Plus, if you want to use capsules or cookie treats, Holistapet offers a wide variety of oils, cookies, capsules and no doubt you'll find something within your budget. They even have bundles that offer special savings so definitely check those out too.
To read more about Holistapet and how it's helping hundreds of other dog owners, click here: Holistapet CBD (Link to Product) – save 15% with our website affiliate coupon code: SENIORDOGDAYS at the checkout page. Please know the 15% off does not work on bundles because they are already reduced.
How I Dose Holistapet for My Dog
Since my dog's latest injury here is what our CBD dosing looks like.
I give my 90 pound dog 1 Holistapet capsule (20mg of CBD) every morning. If he's going to physical therapy that day, I give it about one hour prior to his appointment. I simply cover the Holistapet CBD capsule in peanut butter or cheese and he takes it like a champ.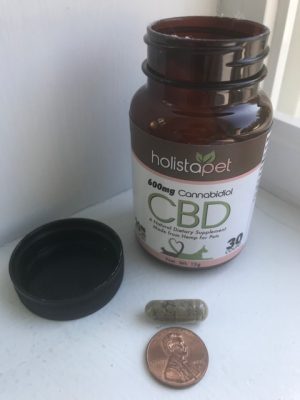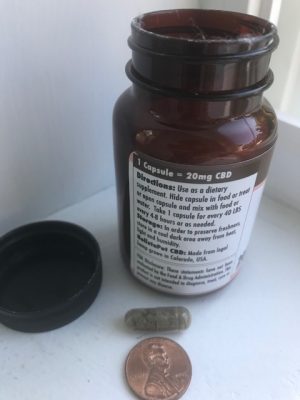 How Much CBD I'm giving my Dog in Total
At this time, my 90 pound senior dog is getting close to 40mg of CBD per day while he works through this current knee injury and physical therapy sessions. On therapy day, he might get a 2nd 20-40mg dose
Otherwise, his dosing is 20mg in the morning (Holistapet Capsule), 10mg in the afternoon (5 Drops of NuLeaf Oil) and then 10mg (5 Drops of NuLeaf) before bedtime.
Prior to this, he was taking around 25-30mg per day for his arthritis and it was just once in the morning and once before bed. From what I understand, most dogs can tolerate 1-2 milligrams per 10 pounds of body weight, always starting on the lowest dose possible.
I do believe increasing my dog's CBD dose and spreading it over 3 doses is helping him through his current mobility issue. He doesn't display signs of pain or lack of interest in going for walks and we are getting through this injury without upping his dosage of prescription pain reliever Carprofen.
In Closing
If you are considering a CBD oil to address your dog's mobility issue, I've been in your shoes. I understand completely any confusion you might be experiencing while trying to sort through the data and reviews and I hope this article has helped in some way.
SeniorDogDays is where I share all of my experiences with my senior dog Frodo whether they be good, bad, sad or downright maddening. When it comes to CBD for dog's, I am glad I did the research that led me to NuLeaf and Holistapet. Everyday these products are going into my dog's mouth via my hand and that's a big deal when it comes to making a recommendation.
I truly consider these to be the best organic CBD oils for dogs with arthritis. If you give one of these products a try, please feel free to use my affiliate links and coupons codes at checkout (SENIORDOGDAYS) to save money on your order. Both companies ship free regardless of order size.
Here are links one last time
NuLeaf Naturals CBD for Pets (link)
Save 20% with code: SENIORDOGDAYS
Save 15% with code: SENIORDOGDAYS
Thanks for visiting SeniorDogDays!