Some content may contain affiliate links to products which means we could earn a fee on your purchase. Thank you for visiting
Over the years, my family has spent thousands of dollars trying products and services that advertise their ability to relieve our dog's arthritis pain and improve mobility.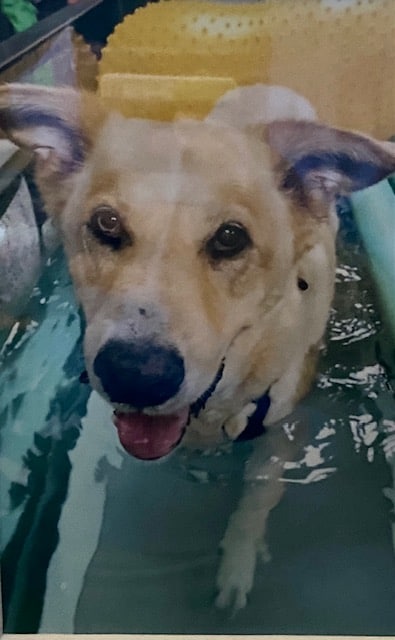 From acupuncture, laser, tens, lights, and treadmills, to chews, pills, bites, and drops. Sound familiar?
We feel like we've done it all, bought it all and even still, our dog's physical therapist shares the latest research on the topic.
Unfortunately, many times our efforts to relieve his pain didn't work, or simply didn't work well enough to support the hefty price-tags.
So let's talk about what does work for him!
What Products Worked for Our Dog's Arthritis
All of the products on this page turned out to be: Money Well Spent!
For our dog's arthritis, we've had great success with Movoflex, Glucosamine, Chondroitin & MSM in Human form, Turmeric, Krill Oil, Quality CBD, NSAIDs, Adequan injections, and finally: Physical Therapy.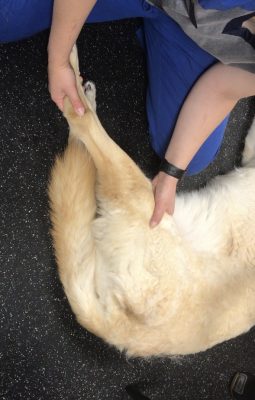 Please do not let the above list overwhelm you.
Our dog is now just shy of 15 year old and these winners were introduced over many, many years. Not all at once.
In fact, some have even been down-right amazing with visible improvement after just a couple of doses.
Still, you may be wondering more about each of these, so I'm going to give you the pros and cons. I'll also link you to our page where I documented when we introduced the product.
Let's dive in!
My Dog's Arthritis Symptoms & History
My dog used to struggle to get up, had a back leg limp, stopped jumping in the car, and dragged his back leg shortly into our walks.
One of his back paws would actually rotate inward as a result of his limited mobility and he couldn't support his own body-weight when lifting his leg to urinate.
If he's especially exhausted, his back end may begin to sink while eating. Not too bad, but enough to make you stand nearby. This is most often observed after a rigid physical therapy session.
Dog Arthritis Medicines – Over the Counter and Prescribed Rx
The products I currently use addressed and corrected various issues as his arthritis progressed, and that's why I recommend them.
Movoflex – No Prescription Needed
Glucosamine & Chondroitin – No Prescription Needed
MSM – No Prescription Needed
Captains Krill Omega 3 – No Prescription Needed
Adequan – Prescription – Vet Must Prescribe
Vetprofen (carprofen) – Vet Must Prescribe
CBD oil from hemp – No Prescription Needed
Throughout this guide, I will share the pros and cons based strictly on my personal experience and observations with my dog.
Dog Joint & Arthritis Supplements Pictures of Pill Size
For reference, here are pictures of all of the products we use and a picture of the actual pill or chew.
If you want to get right to the product: Click the "Jump To" links at the top of each picture.
Movoflex
Movoflex for Dog Arthritis Pros and Cons
We have been faithful users of Movoflex for several years. Here's my opinion on the pros and cons:
PROS
Affordable $20-40/Month
I Saw Improvement after 3 chews – My 90 pound dog was able to get up easier and didn't limp after getting up.
Each Jar Lasts 2 Months
No visible side effects from Movoflex
Doesn't Require Prescription
Doesn't Require a Loading Dose* – It's just one chew per day
My Dog Eats it Willingly
Comes in a tight sealing Rigid Jar Storage
CONS
None – If you can afford between 25-40 dollars per month (depending on the size of your dog ).
Why I Love Movoflex – Personal Experience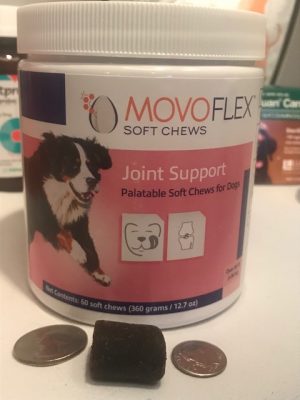 I've been buying Movoflex for my dog's arthritis since May 2018. After about 3 days of being on it, he was able to go from laying to standing with greater ease. After 3 weeks the difference was remarkable.
Movoflex has some special egg membrane proteins that I haven't found in other products and man does it work! Apparently, I'm not the only one who thinks so. Movoflex has great ratings from other dog owners, and that's refreshing.
Movoflex comes in a soft chew nugget and my very picky dog likes the taste. He does not need to be coaxed to eat the Movoflex chew, nor do I have to put peanut butter all over it.
Of all the arthritis products I've purchased, Movoflex was one of the products that was given without any other products in my dog's system (except for the supplements he's been taking since age 6).
Therefore, I am confident Movoflex deserves credit for the drastic improvement in his arthritis back in May 2018. If I could only buy one product, it might be Movoflex, though they've all contributed greatly in different ways.
Cost to Treat Dog Arthritis with Movoflex: $20-40 /Month, depending on your dog's size.
Depending on price, I either have it shipped right to my door by amazon or chewy and I always encourage price shopping when both companies offer great customer service…and they do.
Here is the link to the Movoflex products on chewy where you'll often find sales: Movoflex (Pick Your Size) link
And here are links to check the price of Movoflex on amazon:
Glucosamine with Chondroitin
MSM
MSM and Glucosamine with Chondroitin for Dog Arthritis: Human Grade: Pros and Cons
PROS
No Prescription Needed
It really works!
Budget Friendly at around $2-6/Month
Choice of pills or powder
Humans can take it too.
CONS
You have to administer with something tasty (I use cheese slice or a dog-friendly peanut butter). I also have a pill spread that's super easy to make.
Why I Love Human Grade Glucosamine with Chondroitin and MSM
One of the most useful pieces of information my Veterinarians ever gave me is that most supplements we give our dogs can be purchased as human grade supplements.
Human supplements are usually a lot cheaper and don't have all the filler ingredients that are in some dog supplements chews.
They were right! My senior dog began taking these two joint supplements at the age of 6 and they are human grade pills.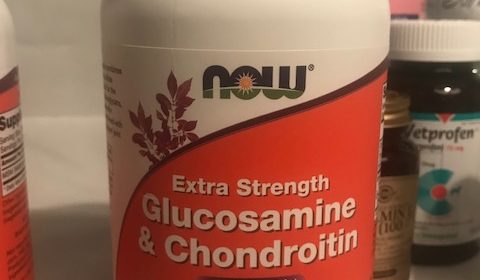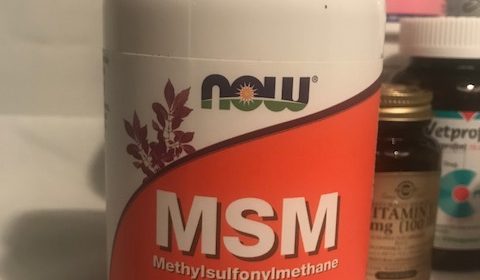 For best results of alleviating your dog's arthritis symptoms, research shows that Glucosamine, Chondroitin and MSM should be taken in combination.
That is why I present them together and most vets speak about them as a powerful trio. I would not just give 1 and not the other to help your dog's arthritis.
Why I Choose Now Brand Supplements for Dog Arthritis
I like NOW brand vitamins. I stay up to date on vitamin and supplement testing and NOW brand always performs well. Independent tests show that their products deliver the amount of supplement as advertised, while other brands have a terrible record. If you're going to buy supplements, you want to make sure you're getting what you've paid for.
As I mentioned before, my senior dog is nearly 15 years old and at the advice of his vet, he began taking Glucosamine with Chondroitin and MSM at the age of 6.
Vets have always been amazed by his mobility considering his breed, his size and his age. These are the exact brands we buy: Glucoasamine with Chondroitin NOW Brand (link to amazon)and here is MSM Now Brand (link to amazon)
Cost to Treat Dog Arthritis with Glucosamine, Chondroitin and MSM: $2.00-6.00/Month
Captain's Krill
Captains Krill Oil For Treating Dog Arthritis (Omega-3)
Pros and Cons
PROS
No Prescription Needed
Easier to Swallow
No Fish Burps
No Harsh Chemicals
No Harsh Additives
Humans can take it too.
Healed my dog's Coat and skin
No more "stinky" dog syndrome
CONS
Quality Costs More
Have to Wrap the Pill with cheese slice or dog-friendly peanut butter.
Why I Love Captains Krill Oil and My Personal Experience for Using it to Treat Dog Arthritis

Captain's Krill is the result of 4 months of research where I bought and compared 2 Omega-3 supplements for both myself and my dog.
Both me and my dog have arthritis in the hips and spine. After testing a fish oil and then krill oil, Captain's Krill was the clear winner.
Not only did my dog begin to look and act younger, his coat, skin and ears look better than ever….and I didn't think they were bad to begin with.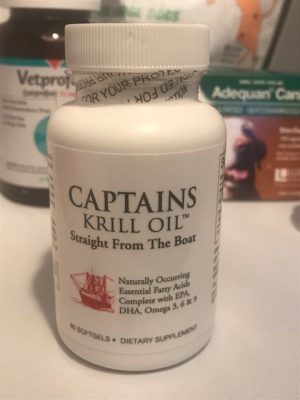 Krill is not the same as fish oil. It is a small crustacean that resembles shrimp and it is LOADED with quality Omega-3 fatty acids.
Now there are a lot of companies manufacturing Krill Oil, but Captains Krill Oil is like the artisan of the sea. Their Krill Oil is made in small batches on the boat and then encapsulated and bottled immediately.
And that really matters. My dog and I both take this Captain's Krill Oil and I get it on amazon. You can choose 1, 2, or 3 pack.
I do NOT use nor would I ever recommend EPA or DHA in a manufactured, chew product. You can read all about EPA and DHA in this post if you're interested in a very long research post: Fish Oil – Omega-3 Supplements for Dogs
How Company's Express The Oil From The Krill
The beneficial oil has to be removed from the krill in order to be put into our capsules. Some companies soak the krill in a chemical solvent and then spin the solvent back out. This means your krill oil pill could also include chemical solvent residual. NOT what I want to give my arthritic dog.
Cost to Treat Dog Arthritis with Omega-3 Supplements: $20-25/Month
Captain's Krill proudly boasts that they manually express the oil from the krill at sea and then encapsulate the expressed krill immediately. They do not use chemicals and they proudly share their 3rd party lab tests on their website.
Omega-3 for Arthritis and The Importance of Proper Handling
I've done so much research on Omega-3's that my head hurts. Omega's are easily destroyed by heat, oxygen, light and processing. They have to be appropriately handled in order to give us the benefits we are seeking.
If we consume Omega-3's that have started to oxidize, they can actually enter our bloodstream as free radicals and cause us great harm. You can read about oxidation and peroxidation and the importance of Vitamin E with Omega-3's Here:Omega-3 and Fish Oil Issues for Dogs
Vetprofen
Vetprofen aka Carprofen for Treating Dog Arthritis Pros and Cons
PROS
Provides Relief Quickly
Good to Have on Hand
Can Give Before Car Rides to Help Ease Travel Pain
Very Affordable
Use as needed
CONS
It's a Prescription with Possible Bad Side Effects
Have to Wrap the Pill
Cost to Treat Dog Arthritis with Vetprofen/Carprofen: $12-20/Month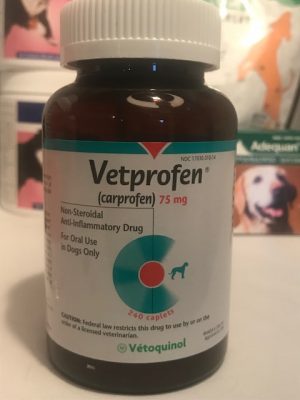 Vetprofen or Carprofen is through prescription only and that's a good thing. It is not right for all dogs and can aggravate current medical conditions. Never give your dog this product without your vet's OK.
It's essentially a pain reliever given to dogs to alleviate pain or flare-ups of arthritis. This vetprofen really does work, I give it to my dog after extra long walks, while traveling and anytime he seems reluctant to get up.
Vetprofen / Carprofen and a Dog's Liver
Before agreeing to use this product, I was advised to check my dog's blood every 6 months, especially for liver levels. I do this anyway so it wasn't a surprise cost.
Make sure you're able to commit to semi-annual blood work to make sure liver values are normal.
My dog has been taken Vetprofen as needed for about 2 years. His liver values have remained normal.
As of August 2019, we introduced CBD (Cannabidiol) to see if we can slowly reduce his Carprofen in exchange for this new, natural "wonder supplement."
Adequan
Adequan for Dog Arthritis Pros and Cons
PROS
I saw significant improvement
It's not a Continuous Supplement.
Reasonably Priced considering the results.
CONS
It's a Prescription with Possible Bad Side Effects
Must be able to give injections or take your dog to the vet 2x a week.
Cost to Treat Dog Arthritis with Adequan Injection: 1 Treatment = 8 injections is about $125 for a big dog  Total 
Cost varies based on your dog's weight and where you get the Adequan.
 Big dogs cost more (as with all products for dogs) but the best prices I've found on chewy and I'll link you to it: Adequan for Dogs (2-Pack).
My Personal Experience with Adequan for my Dog's Arthritis
As dogs progress through their senior years, so too does arthritis. While we can and should make our dogs as comfortable as possible by treating the symptoms of arthritis, clearly it's a disease where new symptoms are bound to appear.
I never look at it though a certain product stopped working, but rather that new symptoms develop.
For me, I noticed my dog slowing down on walks, getting sore and tired more readily and I knew it was time to address the new issues. That's when we tried Adequan.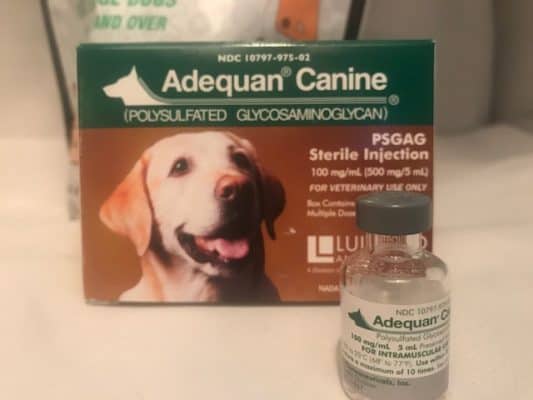 Adequan is an intramuscular injection, given 2x a week for 4 weeks – Maximum 8 injections.
It can only be prescribed by a veterinarian and consider that a good thing. You'll want to know if your dog is a proper candidate for Adequan and only your veterinarian can tell you this.
How Adequan Shots Are Administered for Dog Arthritis
There are 2 ways of administering Adequan. You can go to the vet's office twice a week for 4 weeks or (if your vet allows) you can give the injections at home.
I have experience with wildlife rehab and am not squeamish when it comes to giving injections. However, if it's going to cause you or your dog stress, or you don't know how, then vet trips are the way to go.
I saw a marked improvement in my dog's buoyancy on our walks. His pep was back in his step after the 3rd injection. Talk to your vet and find out if your dog is a good candidate for Adequan.
If your dog is a good candidate and you're going to do at home injections, ask your vet to write the prescription so you shop around for the best price.
Adequan for Dogs Price Shopping
My vet charged $119 per vial while Chewy.com sells 2 vials for the same price, so I turned to Chewy and here is a link: Adequan Canine Multi-Pack.
If your vet charges around $60-70 per 5 ml vial, it's probably worth just buying it from them as they'll give you syringes too.
But if they charge more, definitely consider buying on chewy.com. All you do is enter your vet's information and Chewy will handle the rest. They will call your vet and verify the prescription.
Take your discounts whenever possible because treating a dog's arthritis definitely adds up!
CBD
CBD Oil, Treats or Pills for Treating Dog Arthritis Pros and Cons
PROS
No Prescription Needed
Comes in Oil, Treats or Capsules (pills)
Humans & Dogs can Share Oils and Pills
Natural Product
It has other health benefits (especially for senior dogs)
Could replace Prescription NSAIDs
CONS
Because CBD from Hemp Just became legal in Dec. 2018, the market is saturated with low quality CBD products.
As per usual, big dogs cost a lot more.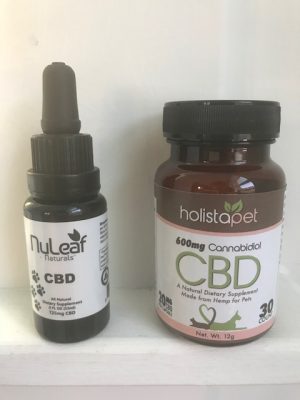 Cost to treat a Dog's Arthritis with CBD
A good quality CBD Oil will cost around $100 per bottle and the bottle might last you 2 months or 1 year depending on the size of your dog.
A good quality CBD pill will cost around $30-60 per bottle and that might last 2-6 months.
A bag of quality CBD dog treats costs around $25-30 and might last 1-2 months.
My personal experience Using CBD Oil to treat my Dog's Arthritis at Home
As mentioned earlier, I am hoping to take my dog off the prescription NSAID Vetprofen and replace it with CBD. So far, I am happy to report that I have lowered my dog's vetprofen dose in half and my dog is responding extremely well to CBD in it's place.
Here is my CBD routine:
My Dog's CBD Dose for Arthritis Relief
I am using two CBD products because it is a bit more economical that way. If you are interested in trying either one of these CBD products for your dog, feel free to use our affiliate coupon code at checkout: SENIORDOGDAYS 
The coupon code will save you money on everything except bundled CBD products because those are already reduced.
Here is my routine with CBD:
Every morning, my 90 pound dog gets one 20mg CBD capsule made by Holistapet (affiliate link to product).
Then, throughout the day, my dog gets 3-10 drops of a CBD oil tincture made by: NuLeaf Naturals CBD (affiliate link) . The oil is more expensive but I actually prefer the way it performs and I personally like to take NuLeaf Naturals CBD for myself as well.
So in total, my 90 pound senior gets around 28-40mg of CBD on a daily basis to help with his arthritis pain management. If we go on an extra long walk or go for a car ride, he gets a higher dose.
If he seems to be managing well, he might just get a dose before climbing up the stairs for bedtime.
CBD for Dog's Arthritis General Dosing
Most dosing charts call for for 2-5 milligrams of CBD for every 10 pounds a dog weighs. I started on the low end and there was noticeable improvement.
Why NuLeaf or Holistapet CBD?
I cannot stress enough the importance of buying a good quality CBD product. The market is saturated with CBD oil from imported hemp with unknown quality control.
Hemp is a highly absorbent plant and it needs to be farmed without pesticides and tested for toxins. What's worse? Some hemp products are simply hemp seed oil posing as CBD oil with claims of "pain relief and "anxiety relief."
In brief, NuLeaf and Holistapet are the real deal and both make CBD from USA grown, organic Hemp. Both companies test for pesticides and use green extraction methods. They both manufacture Full Spectrum CBD which means your dog will get the FULL Plant Benefits.
I spent over a month researching CBD and I invite you to read my research articles here: Hemp Seed Oil vs. CBD Oil For Dogs and here: 4 Pet CBD Makers Go Head to Head: Review
About My Dog (Size, Breed, Level of Arthritis)
My dog is an extra large breed, 90+ pounds and nearly 15 years old. He has arthritis in his spine, hips and one hock. The products I talk about here, I do so because he takes them routinely and they've changed his life (our lives).
He was 10 years old when arthritis first appeared, and as we know, arthritis is a progressively degenerative joint disease in dogs.
Products work at a current stage, and as it advances, other products enter the picture.
X-ray wise, my dog has pretty significant arthritis, but it's his supplements that keep him mobile and I believe contribute to a pain-free quality of life.
As we know, we cannot prevent or cure arthritis, but we can definitely mange the pain and symptoms, and achieve success.
Stay Tuned
As we explore new products, this is where you'll find our story AND our results! Thanks for spending time with us.