Some content may contain affiliate links to products which means we could earn a fee on your purchase. Thank you for visiting

You've probably wondered why it is that as soon as something is marketed for "dogs" – the cost skyrockets. Well it doesn't always have to be that way.
One of the best things my veterinarian ever told me was that most human supplements were perfect choices for dogs because they are likely to be higher quality and they cost a lot less money.
Krill Oil for Dogs Can be Bought Online
So when someone asks where to buy krill oil for dogs? I'm delighted to say that my dog takes the same exact krill oil that I take. It's called Captain's Krill Oil (product link) and I get it shipped to my door from Amazon.
Here is a picture of the krill oil my dog and I take every single day: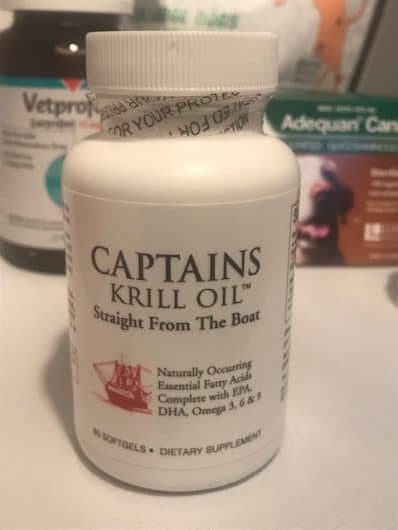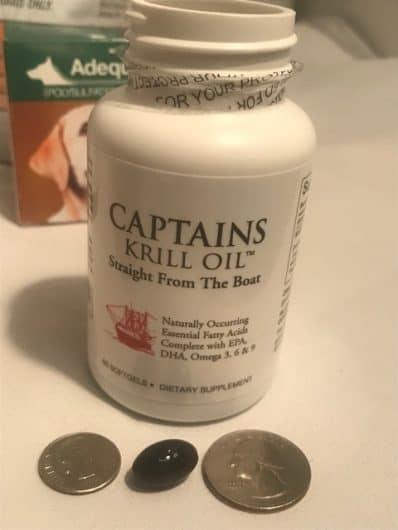 Why I Choose to Buy Krill Oil for My dog through Online Stores
Well, I give my dog krill oil because he needs omega-3's to support a healthy immune system and our dogs cannot make omega-3's on their own.
I decided on Captain's Krill Oil instead of fish oil and other krill oils that sit on store shelves as a result of 6 months of testing pills and researching the omega-3 supplement industry. Here is a brief summary of my findings after a half of year of research and testing:
Omega 3's Need to Partner with an Antioxidant
Omega's 3's are not hearty nutrients, in fact they are very susceptible to destruction. In order for omega-3's to stay stable during storage they need to be shielded from air, light and heat in order to prevent oxidation.
If an omega-3 nutrient has the chance to oxidize before consumption, they will enter our body as free radicals. Free radicals are toxic byproducts of oxidation and they cause extreme damage to our cells.
What protects Omega-3's from oxidation?
An Antioxidant
Quick Production
Proper Encapsulation
Proper Storage
The manufacturer of Captain's Krill Oil delivers on all areas in order to keep the omega-3 supplement as powerful and as safe as expected.
Why Buy Krill Oil Online Vs. Retail Stores
Because it's nearly impossible to find Captain's Krill Oil on store shelves because it is made in such small batches. At this time, I've never encountered it in a store and have always had to purchase it online.
What Else is Amazing about Captain's Krill Oil
Captian's Krill Delivers A Naturally Occuring Antioxidant
Astaxanthin is one of the most powerful, naturally occurring antioxidants in the world. It is found in algae and it's what makes flamingos, salmon and krill turn pink.
Because Krill eat a diet of micro-algae loaded with astaxanthin, quality krill oil comes with a naturally occurring antioxidant. That means that during production, it has built-in protection against oxidation. Whereas other types of omega-3's (like fish oil) begin to deteriorate during production until they get combined with whatever antioxidant (usually synthetic) the manufacturer is using.
Synthetic antioxidants do not need to be added to Captain's Krill Oil capsule. The capsule contains exactly what you pay for: Krill Oil. This is one of the reason's why Captain's Krill Oil pill is smaller than other fish oil capsules.
Captain's Krill Oil Quick Production Process
Captain's Krill boasts of their small batch, artisan type production method. Their krill oil is expressed and encapsulated in small batches on the boat.
Other krill oil manufacturers use a method where they take the krill off the boat, transfer it to drums, soak it in a chemical solvent, spin the solvent out, then store the oil in bulk.
Captain's Krill Oil Comes in a Dark Pill
Proper encapsulation means protecting the precious omega's from light destruction. The krill pill is dark which is critical for protecting omega-3 fatty acids from oxidizing after production, while waiting to be consumed.
Capsule Ingredients
Finally, I give my dog this krill pill because the capsule ingredients are simple. Some capsule ingredients are made of a handful of chemicals that are impossible to pronounce. That is not something I want in by body ….or my dog's body. We did an in depth article about capsule ingredients (link to article).
After Online Purchase: Krill Oil for Dogs Requires Proper Storage
Once it enters our home, safe storage is our responsibility. Keep the krill oil bottle in a cool, dry place away from heat, cold and light. A room temperature cupboard is ideal.
Keep the lid on the bottle at all times and take them straight from the bottle rather than putting them into a weekly or monthly pill box.
How the Krill Oil I Purchase Online Helps My Dog
I truly believe my senior dog's mobility is better with krill oil. Aside from improved mobility, his coat and skin has improved by leaps and bounds. He used to shed all the time and now he doesn't. His skin near his hind end was always itchy and scabby and now it's pale pink and full of thick fur. And to top it off, my dog smells amazing. No more stinky dog coming from his coat or ears.
I really love this product for my dog and the added benefit is that we can take the same product. If you're a person who needs omega-3 supplements you and your dog can reap the benefits of Captains Krill Oil.
If you are interested in a really in depth article about fish oil for dog's, you'll find it here: Fish Oil for Dogs.
Otherwise, I absolutely highly recommend that you buy this krill oil online vs. a taking a chance on an unfamiliar brand inside a retail setting. My personal experience with Captain's Krill (link to product)  makes me feel good about recommending the product, especially if your vet has suggested omega-3 for your dog.
If you are looking for krill oil based on a vet's recommendation, I encourage you to also ask them about a vitamin E supplement.
My 90# dog takes this one (product link): 100iu vitamin E pill (link) a few times a week, to help ensure the omega-3 supplement doesn't deplete his body's vitamin E supply.
Thanks for visiting SeniorDogDays!