Some content may contain affiliate links to products which means we could earn a fee on your purchase. Thank you for visiting
Update: Frodo is now 15 years old, at the time of this writing he was 12. Enjoy!
My readers know that my extra-large breed, 12 year old senior dog Frodo has been on a homemade raw diet for a few years now and that his health improved dramatically after making the switch. If you're new to the site, you can read all about my recipe, equipment and my entire raw process here: my homemade raw diet.
Now there is no way I'm ever going back to commercially prepared, dry dog food, but a recent shoulder injury made it extremely painful for me to send 40 pounds of bone-in chicken through my grinder and I had no choice but to start looking for help with keeping my freezer full of raw dog food.
My research began last August and after studying the recipes of raw dog food makers and making several phone calls to their places of business, I decided to try Darwin Raw Dog Food out of Washington State. (link to Darwin's RAW Introductory Offer)
Why did I pick Darwin? Well, I'm going to get into all that, but I will say right up front that I was looking for an organic raw dog food maker that wouldn't cost the price of a luxury car payment. That's because, I'm used to "homemade" prices!
Is Affordable, Organic Raw Dog Food Delivery Really Possible?
If memory serves me correctly, the whole reason I began making my own raw dog food instead of buying it was because, years ago, the choices were limited, the prices were unthinkable, and the shipping was outrageous!
Years later, it's still way more expensive to buy raw dog food than to make it, but I had no choice.
However, I was very glad to see that there were now well over 40 Raw Dog Food Makers, hoping to make it into our homes. I didn't have that many options back then.
So I started my research project by brainstorming everything I wanted in a raw dog food and in doing so, I narrowed my search to a handful of options.
In the next section, I'll share with you everything I was looking for.
What to Look for When Selecting a Raw Dog Food – My Checklist
If nothing else, making my own raw dog food for several years has made me acutely aware of lots of little details. For instance, a small grinding screen makes for a nice consistency, but too small makes it mushy.
Too much water can cause freezer burn, and: packaging matters!
In addition to the above, I had some dietary requirements for the raw dog food. For example, I don't like feeding my dog peas as I consider them an enemy of arthritis and a nutritionally empty filler.
Frodo has enough problems and I don't want a dog food to aggravate his pre existing conditions.
In brief, here is what I was looking for in a raw dog food and I used this list to weed out all the dog food makers who couldn't provide my basic requirements which are:
Organic vegetables
Free range meat, or no antibiotics
Must include organ meat
Low sugar fruits (if any)
No peas
No white potato
No unknown fish oil ( I have a thing about fish oil you can read it here)
No green beans (only because my dog HATES them)
Sturdy packaging
A price I can afford
Then, if I could find all of the above, I would prefer a diet that included low inflammatory veggies such as celery, peppers, sweet potato/yams and berries – and that's because my dog's arthritis is pretty advanced.
Results
Well after researching lots of companies I had the list narrowed down to 2 companies that would fit my needs and one of them was Darwin. The other company seemed just as promising, but their website was so un-user friendly and I seriously couldn't figure out how to get their product to my door.
Darwin's website was not only easy, but highly educational.
It even allowed me to enter my dog's age and weight so I could see the recommended feeding instructions. so for me, I didn't have to think twice. Good, easy, friendly technology will get my business every time.

Darwin's Natural Selections Raw Dog Food – My Favorite Features
Packaging – 5 Stars
As a raw dog food expert, I can tell you that dealing with leaky packaging is a big deal. Nobody likes bloody, raw chicken leaking in their fridge!
Darwin's packaging was heavy duty, thick ply and the seal was super strong. As a bonus, one corner has an easy-peel feature that works every time.
Manufacturing Information for Consumers- 5 Stars
Right on the front of every 4 pack is the date that the product was made and the lot number. This made is super easy to verify there had been no issues with the lot and I could easily see the dog food date. Loved it!
Vegetable Choices – 5 Stars
My dog is now going on 13 years old and his arthritis is diagnosed as "severe." The veggies chosen by Darwin are all EXACTLY what I try to incorporate into my dog's diet because they help fight inflammation. We're talking celery, yams, squash and parsley! Thank you!
Mineral Add-Ins – 5 Stars
Cod liver oil and flaxseed oil are two ingredients I want my senior dog to have and they are on the expensive side when you buy them independently. Darwin adds both of these expensive ingredients to their chicken and turkey offerings. The Cod liver oil is wild caught and the flaxseed oil they use is organic. Marvelous!
But Will My Dog Agree to Eat Commercially Made Raw Dog Food? Taste Test
So here was my final concern. Would my spoiled senior dog be agreeable to eating a dog food that wasn't homemade? I mean he really likes the recipe I make and my dog is extremely picky.
So I got the Darwin delivery and decided to do a taste test, fully expecting my pup to prefer his homemade meals. I conducted the test, one meal per day for 5 days and put both Darwin and his homemade raw in the same dish, side by side.
You can watch this video to see how it went –
So yeah, he liked it and now Darwin is (temporarily) helping me keep my freezer full of raw dog food while I rest this shoulder! Thank you Darwin!
Even though this is way more expensive than homemade, I was not willing to go back to dry or wet dog food.
Raw Diet Feeding Tips
If you're new to feeding raw, you should know a couple of things.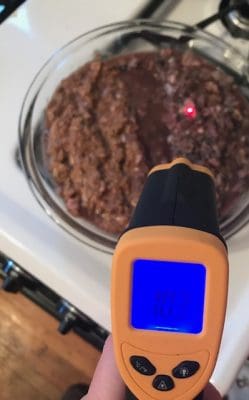 Serve Warm – always make raw food warm, I noticed if it's too cold, it causes regurgitation. I defrost the food overnight and then cook on low in the microwave for 30 seconds to 1 minute. I check the temperature with a digital thermometer and look for around 100° degrees F.
Transition – even though my dog is already on homemade raw, I still gave him half homemade and half Darwin for a week. Always slowly transition your dog when changing foods.
Check Lot Numbers – Recalls happen, so before feeding your dog a raw packet, check the lot number using your computer or cell phone. Darwin makes it easy as they print the lot number on the front of each 4 pack.
More about raw dog food safety: It may seem like there are a lot of dog food recalls but keep in mind that the FDA imposes a ZERO bacteria tolerance on raw dog food manufacturers. This is in stark contrast to the generous 23% Salmonella and 9.7% Campylobacter bacteria contamination they allow to be sold in grocery stores for meat intended for human consumption.
So frankly, commercially made raw dog is far less likely to cause injury to your dog than a store bought, undercooked piece of meat. Just do your part. Be a good dog mom or dog dad and check the lot numbers before feeding.
In Summary
Shipping raw, organic dog food to my front door was not something I thought I would need to do. But, my shoulder injury kinda forced me to look for a "raw dog food partner" in order to help keep my freezer stocked.
If not for my injury, I probably never would have researched raw dog foods because I'm happy to make my dog's raw diet from scratch, and homemade is so much cheaper.
However, I have to admit that I'm really enjoying a break from the monthly grind (pun intended). Having quality, well packaged, organic raw dog food shipped to my home has been nothing short of a miracle and even when my shoulder heals, I'm going to allow Darwin's Raw Dog Food help me out during busy times.
But the best part of all is knowing my dog loves it…and though it pains me to say; I think he actually prefers it. The 5 day taste test challenge was a fun time and even though my dog chose Darwin in all 5 rounds, at least he still ate mine when the Darwin Raw was all gone.
If you are on the fence about the raw dog diet, I encourage you to give Darwin a try. Their introductory offer is a no-brainer and you have very little to lose to see if your dog loves it and responds well.
Thanks for visiting Senior Dog Days!