Some content may contain affiliate links to products which means we could earn a fee on your purchase. Thank you for visiting
What's more annoying than coming home to a chewed up dog bed?  Having to shell out good money to buy a new one.  In this article we will cover 3 dog beds manufactured by companies who put their money where your dog's mouth is when it comes to their confidence in tear proof, indestructible, unchewable dog beds!
Of course any dog bed is technically "chewable" and I've known a few dogs who successfully chewed on rocks…but these companies make it much harder for dogs to sink their teeth into their indestructible dog beds; so much so that these fine companies offer a warranty if your dog causes damage to his bed due to chewing, scratching or tearing.
One of the best warranty's in the dog bed market (if not the best) is provided by Orvis and their Tough Chew dog bed line. If your dog chews through the bed, Orvis will replace and it expires….NEVER. Quite frankly, if you decide to buy an Orvis dog bed, it will very likely be the first and only dog bed you'll buy.
Here is a table showing Orvis and 2 other dog bed companies, K-9 Ballistics and Kuranda, who offer an incredibly generous dog bed warranty: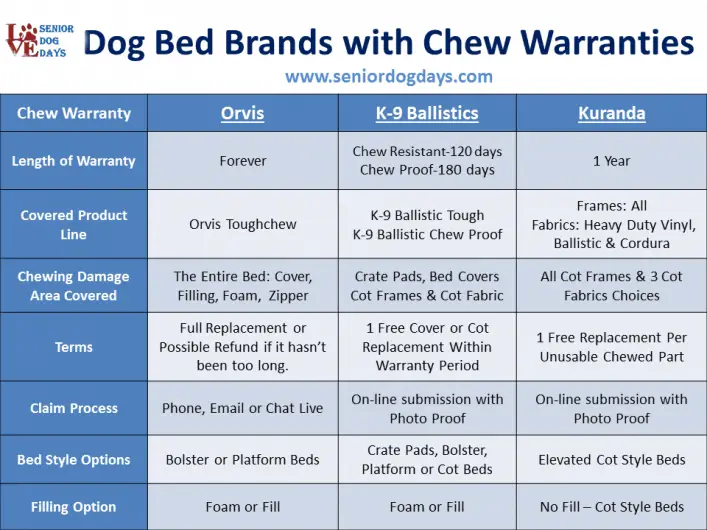 As a dog owner and dog lover, what more can we ask?  With safe, chemical free, dog beds costing between $100-$400 (depending on size) it's a big sigh of relief knowing there are companies out there who understand the dilemma of providing our chewer dogs with good, supportive bedding with the added security of a chewing warranty.
Manufacturer's Warranty vs. Chewing Warranty for Dog Beds
You'll find lots of companies and countless dog bed ads boasting in big, bold letters "LIFETIME WARRANTY!"  But when you read the fine print, you'll soon discover that the "lifetime warranty" is good only for claiming a manufacturing defect, NOT damage caused by your dog when he chews or tears up his dog bed.
But these 3 brands we are going to be covering in greater detail are doing something very different.  They offer products that absolutely include damage that is caused by your dog's insatiable need to chew or damage caused by scratching.
So without further ado, let's dive into these 3 amazing companies who are satisfying our craving for unchewable dog beds…so to speak.
Orvis Tough Chew Dog Beds
Go To Orvis Tough Chew Styles and Reviews – my affiliate link will take you directly to the Tough Chew Line for bed styles and fabric choices.
I love it when a company has the live chat option on their website and Orvis customer service does not disappoint.  They offer live chat from 6am through midnight (Eastern Time) 7 days per week! 
So at 11 pm on a Monday, I opened up the chat box on Orvis' website and typed into the blankness: "How long does the warranty really last on your ToughChew dog beds?" and within 15 seconds an Orvis representative replied "FOREVER".
Orvis Unchewable Dog Beds Warranty
Again, no dog bed is unchewable or tear proof, but Orvis is definitely knocking it out of the park when it comes to making dog owners feel smart about spending good money on a dog bed.  I couldn't believe my eyes while chatting with Orvis customer care. 
They guarantee the entire bed of their proprietary ToughChew model. And that includes the cover and the bedding.  FOREVER!   Or should I say FUREVER!  And if you want a dog bed that drips of high quality and fits into home décor, Orvis dog beds will make you very happy.
Orvis Chewed Up Dog Bed Claim Process
Whether it happens in 2 months or 10 years, you can submit a claim to Orvis whenever the dog bed is chewed.  Orvis dog bed claims can be made via phone, email or live chat.  I asked the representative about pictures and she said, pictures are always nice, but they are not necessary.
You simply tell Orvis if you need a new cover, new filling or a whole new bed and they send it out to you. 
If your dog chewed the bed in just a few short days, or if they've sent you a replacement and the replacement gets immediately chewed up, they reserve the right to refund you instead of continually replacing the item.  How's that for awesome!
Orvis Dog Bed – Top Notch Customer Service
From my own experience dealing with Orvis in the past, to my recent chat regarding the dog bed chewing warranty, this company is doing everything right.  You can also see recent reviews on their website here: Link to Orvis Tough Chew 
While most people rate these beds 5 full stars, sometimes the bed doesn't work out and customers rate it low.  When this happens, Orvis responds on the website, publicly, and reminds them that the bed is 100% guaranteed forever and they are offered refund or replacement. 
Really, what more can we ask of a dog bed company? Here is an awesome snippet right from their official website:
Our durable ToughChew® dog beds know how to take a beating—or a biting. The double-layer construction in our chew-proof dog beds is specifically designed to withstand even the most persistent chewers, diggers, and all-around bed-shredders. Even if your pet has run through tough dog beds before, he has finally met his match in this one. This line's chew-resistance is the best you'll find anywhere, period—and we back up that claim with a 100% quality guarantee. If your dog can chew through one of our ToughChew dog beds, we'll give you a full refund, no questions asked. We're confident that a product from this collection will win your pet's paw-print of approval. Because this isn't just a tough-as-nails pet accessory—it's the best durable dog bed around.
Orvis Dog Bed & Chew Warranty Summary
Cool Features of Orvis' Dog Bed Chewing Warranty
Orvis backs their ToughChew bed with 100% FOREVER guarantee. It's hard to beat "forever" and no questions asked.
The Warranty Includes the Whole Bed, not Just Covers.
Orvis has nice designs that will fit in with home décor.
Orvis dog beds are manufactured in the USA
Orvis customer service and accessibility is top notch. They monitor reviews and are constantly responding and offering to make good on items that didn't meet expectations.
Orvis dog beds are more expensive than a lot of other brands (especially for our big and giant breed owners) but these high end beds are not cost-prohibitive when you consider it is likely the last dog bed you'll own. Here is our link to Orvis Tough Chew Dog Beds one last time: Orvis Tough Chew
K-9 Ballistics Dog Beds
The great thing about K-9 ballistics is that their line of products with a chewing warranty extends to crate pads, blankets, filled beds and cot style beds making K-9 Ballistics the company with the most variety of "unchewable" dog beds and other products.
They offer 2 product lines with dog chewing warranties one is called "chew resistant dog bed" (link to product)
Their top of the line cot style bed is the K-9 Ballistic – "chew proof dog bed (link to product)."
K-9 Ballistics Dog Bed Chew Resistant Warranty
The chew resistant line offers owners a 120 day dog chewing warranty.  These products include crate pads, blankets or filled dog beds.
If your dog chews through a tough crate pad or tough blanket or a tough mini dog bed during the warranty period, they will replace the entire product.  However, when it comes to other sized filled (not mini) tough dog beds, they will only replace covers (unlike Orvis who will replace the entire chewed area, including bedding). 
Still, this is superior to most companies and K-9 Ballistics seems dedicated to research and development of chew proof products.
K-9 Ballistics Dog Bed Chew Proof Warranty
This line has just one product which is their elevated, cot style dog bed.  There is no filling, it's simply a durable frame and a secure, chew proof, proprietary fabric.  This is their toughest bed for heavy chewers and they offer a 180 day warranty against dog chewing damage.
What's cool? if you buy a chew resistant bed and your dog ruins the bed within in the warranty period, you can choose between the free replacement or you can upgrade to the chew proof bed for a significantly discounted price
K-9 Ballistic Chewed Up Dog Bed Claim Process
K-9 has a special place on their website where you would submit your claim for a replacement chewed up product.  They do want a picture of the damage so you will have to be savy enough to upload a picture.  They also list a telephone number if you need help or immediate assistance.
K-9 Ballistics Dog Bed Summary
Cool Features of K-9 Ballistics Dog Chewing Warranty
Many Products Including Blankets, Crate Pads, Filled Dog Beds and Elevated Cot Style Beds.
Replacement Parts are available.
2 Chew Warranty Product Lines – Chew Resistant (120 days) and Chew Proof (180 days)
You can choose to upgrade to their strongest bed at a discount vs. receiving a covered warranty replacement
Manufactured in the USA
If you splurged on embroidering your dog's name on the original product, your covered replacement will also be embroidered at no charge.
K-9 Ballistics has a competitive market entry price.  They are as competitive as other brands when it comes to crate pads and blankets and they stand behind their products by providing a warranty when other companies only protect against "manufacturing defects."
Kuranda Dog Beds
Kuranda is all about the cot style, elevated, framed dog beds.  Do not let your mind wander to those flimsy metal tube beds that look like a cheap rectangular trampoline.  Kuranda beds are sturdy and strong and enjoyed by dogs of all size and they are definitely known as being unchewable dog beds.
I might add that these elevated style beds can be extremely beneficial to our large breed dogs that have trouble picking themselves up. Because the beds are off the ground, a larger dog can scoot her back legs off the bed which saves her from putting all her weight on her back legs in order to get up from the floor.
If your dog is arthritic or has hip dysplasia, an elevated bed could provide some relief (article relating to dog bed design). If you have a dog that prefers to get up onto a sofa, then an elevated dog bed by Kuranda may be a perfect match.
Kuranda Patented Chew Proof Dog Bed Warranty
Kuranda offers several choices in frames size, depending on your dog's weight and whether or not you want the bed to be indoor, outdoor or "stylish".  Kuranda also offers 4 different fabric choices, 3 of which come with the chewers warranty which lasts one full year. 
Kuranda Chew Proof Dog Bed Frames
The chew proof warranty comes in 2 different frame styles. The Kuranda PVC (link to product) is for dogs weighting up to 100 pounds.
The second style is the Kuranda aluminum frame (link to product) for dogs over 100 pounds, or for multiple sleeping dogs up to 250 pounds.  Both frame styles are covered by Kuranda's Chew Proof Warranty.
Kuranda Chew Proof Dog Bed Fabrics
Kuranda offers 4 fabrics for stretching across the cot style beds and 3 of these fabrics are covered by the 1 year chewing warranty.  You'll also be pleased to know that the fabrics come in a choice of colors so they can blend into your home decor. The 3 warrantied fabrics are:
Heavy Duty Vinyl (most durable, easiest to clean) -The most durable option, ideal for giant breeds and destructive dogs. Non-absorbent, solid material, just spray and wipe dry.
Ballistic (durable and easy to clean) – Abrasion resistant high-denier nylon with a smooth finish that makes it easy to clean. Lovely, sewn fabric is attractive in the home.
Cordura (durable with softer weave) – Abrasion resistant high-denier nylon but without the smooth finish making it ideal for older dogs as it provides plenty of traction getting on and off the bed. Best fabric choice for dogs with sensitive skin or allergies.
Kuranda Chewed up Dog Bed Claim Process
Their chewed up bed warranty lasts for one full year from the date of purchase.  It is, however, worth noting that Kuranda's chew warranty does not extend to the sight of "cosmetic chewing." The bed parts have to be rendered unusable from chewing in order to qualify for free replacement. 
While this isn't as liberal as Orvis or K-9 Ballistics, it's still a good warranty option if you've got a chewer and remember…most companies offer zilch.
Kuranda directs customers to use their online submission form and to provide pictures of the chewing damage.  Kuranda also posts an 800 number next to the form if you need help.
Kuranda Dog Bed Summary
Cool Features of Kuranda Dog Chewing Warranty and Beds
3 out of their 4 fabrics are covered by the warranty and some are not any more expensive.
Kuranda offers lots of replacement parts and fabrics so your bed isn't a total loss if something happens 5 years later.
The fabrics come in different colors
These beds are designed to fit inside crates too.
These beds are super easy to clean and maintain. 
Manufactured in the USA. 
The "Unchewable Dog Beds Summary"
There you have it, 3 companies, Orvis, K-9 Ballistics and Kuranda, who are trying their best to design products that meet consumer needs.  While the warranties aren't perfect (accept maybe Orvis') they are definitely a step in the right direction and certainly better than no warranty at all. 
Why not reward one of these companies with your hard earned dollars and give your chewing, digging, bed shredding dog the gift of a comfortable bed while giving yourself that tear proof, unchewable dog bed feeling.
Thanks for visiting SeniorDogDays!