Some content may contain affiliate links to products which means we could earn a fee on your purchase. Thank you for visiting
Whether your dog needs a boost getting into the backseat of your SUV or a staircase to climb into the cargo space; today we are talking about stairs for dogs to get in the car.
And while I never intended to use two different products…I ended up loving both of these styles to help my 90 pound arthritic dog when getting into my SUV.   I'm going to share my review and video of exactly why I LOVE both of these pet steps for cars.
At the end of this article, you should have enough information to make a more informed decision as to which style may work best for your dog.
Reviews of Dog Steps for the Car
The two pet step products I personally own and are demonstrated by my dog in the upcoming review and video are these:
Best Side Door Entry Pet Steps: Extra Wide Pet Steps by PetGear (link to product)
Best Back (Hatch) Entry Dog Steps: Portable Loading Pet Steps (link to product)
Let's get into my full review (with video) and a little background as to when and why I had to get some pet steps for my senior dog. 
How to Lift a Large Dog Into a Car
I remember the day vividly.  We were leaving my parents' house after a fun-filled, weekend visit.  The SUV was loaded, my dog had the entire backseat of my jeep  decked out for comfort and all to himself and all he had to do was  "jump" in so we could begin our 3 hour journey home.
He was excited to go home as usual, but as he made his way toward the side door of my jeep, he stopped dead in his tracks and turned around.  That's odd I thought and gestured for him to jump in.  He walked toward the door again and…. Nope, not going to do it. 
Now anyone who has a 90 pound dog knows all too well, you're not going to make your huge dog do anything he cannot physically do.  Luckily, with much love and reassurance from family, we were able to convince him to set his front paws up on the seat and then my Dad and I lifted and assisted his back end up and into the car.  It was sloppy, but… mission accomplished.
Frodo was so happy to be in the comfort of his backseat, but I knew right then and there: It's time to start researching those Pet Steps that help dogs get in the car!
Pet Steps for Cars Reviews
If you're reading this article, then you and I have at least one thing in common: we read reviews before buying products.  So as my research into pet steps for cars began, much to my surprise, I saw a lot of ads for pet stairs, but not a whole lot of reviews for products that were suited for large breed, arthritic dogs that use SUV side doors. 
And let's face it, those foam step reviews showing a Toto sized cutie were not going to cut it.  No way is my huge dog going to walk up a squishy, wobbly foam staircase!
Another decision I had to make was between dog Ramp or dog Steps?
Is a Ramp or Stairs Better for Dogs?
I had the same exact questions and I think it comes down to knowing your dog.  For my senior dog, I knew a couple of things that led me toward steps and they are this:
My 90 pound dog is front heavy.  He's got a big chest like a boxer but his back legs are losing muscle as he ages.  For me, I thought the ramps available were way too steep for his body type, weight and physical condition. 
I also remembered that he absolutely hated those ramps that are often found at dog washes that are meant to help dogs climb up into the washtub.  With that in mind, I decided pretty quickly that it would be dog steps over a dog ramp for helping Frodo get into and out of the car.
Which Pet Steps are Made for Big Dogs?
The two products that kept coming up in my research were the pet loader (pretty expensive) and a wide version of the foldable pet stairs, which were friendlier on the budget. 
Pet Loader Collapsible Platform Steps (3-Step, 4-Step, 5-Step)
The pet loader was a pretty expensive option but I remembered that my friends had it for their dogs and even though it was years ago, my dog did use it without issue to get into the back of their cargo van. 
And frankly, if you load your dog into the back of your SUV , Hatchback or Van and can afford the Pet Loader:  go for it. 
You should have no problem convincing your big dog to walk up the pet-loader because it's as natural as regular stairs.   It comes in 3, 4 or 5 steps and these dog steps are extremely sturdy!  Use the product link to see current pricing and read reviews from fellow large breed dog owners:  Pet Loader (product link).
My continued research led me to the next product (which I do own).
Foldable, Portable Pet Steps for Cars
The other product that people mentioned was the foldable, metal and heavy-duty fabric expandable steps that hook into trunk latch hooks.  There was one style in particular that supported my dog's weight and had a good amount of reviews from fellow dog owners.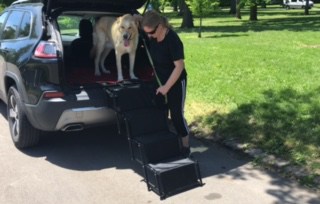 I ended up buying these style of foldable style car steps – 100 pound weight (link to product) and I highly recommend them.
Side note: When I bought my steps, they only had ones that supported up to 100 pounds, but now they make one that's good for up to 120 pounds.  So if you'd prefer, or need the extra strength, get these ones instead; Foldable Pet steps Holds 120 Pounds (link to product). If I were buying today, I'd go with the 120lb class.
Dog Steps for Car Side Entry Backseat
Even though the back entry steps seemed like a viable option,  I still had an issue and that was that neither the pet loader nor the foldable pet steps would solve my main issue which was: 90% of the time, my dog uses the side door of my SUV, not the back… and I wanted to keep it that way
My Back Seat Solution for the SUV and also Sedan
So, not having many reviews to count on, I did what we all do at some point: I took a chance on a product that looked like it might work for my SUV side door.  Enter:  Extra Wide Pet Steps by Pet Gear (link to product).
Now I had my doubts, but I didn't tell Frodo.
Why I Love the Extra Wide Pet Steps by PetGear for Side Door Entry in my SUV
These steps are sturdy, wide, carpeted and they have rubber pads on the bottom that keeps them from slipping while my dog climbs in the car.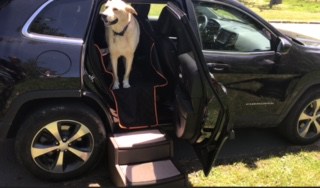 One of the reasons I went for the wide version is because I wanted a set of stairs that were full enough for my big dog to feel safe.
See in the picture how the steps leave no gap between the steps and the car and how wide they are?
He's not a fan of wobbly or skinny setups (like dog ramps) so I knew he'd need a wide set of stairs and these dog steps are perfect!   
They fit right up close to the SUV and with the side door open and me guiding him up (on the open side) it's like we created a walled staircase, which makes my big dog feel secure.
I also like that they are easy to clean and extremely light weight.  And if you have a Sedan, which is our 2nd car, these steps work just as well. They are nearly flush with the seat, maybe just an inch lower.
The bigger problem with some sedans is that the doors don't open nice and wide…ad least in ours. But the dog steps still work .
What I would Change about PetGear Steps for Dogs
If I could change one thing about these steps, I'd love it if they folded (without compromising their strength).  Even so, I highly recommend these for side door car travel. 
And while they were pretty easy to assemble, I'm convinced the instructions had a mistake.  It was logical to figure out and caused no problems, but a couple other people mention the same thing.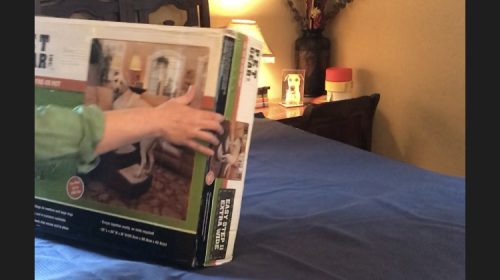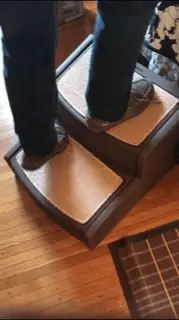 Other than that, the steps taper forward and I wondered if that would be a problem. Turns out, it was not, and perhaps it's by design? Anyway, they are perfect for my 90 pound senior, arthritic dog as you're about to see in the video and we don't go anywhere without them.
Remember to place the steps on solid ground, use a leash to guide your dog up the stairs and put your body on the open side of the stairs (opposite the open car door).
Interestingly enough, my dog waits for me to guide him up and down…and I'm okay with that.
Tips for Getting Your Dog to Use Car Steps
My dog is a little timid with new processes, but allows patient and repeated training and instruction.  He would not use either set of stairs on his own but little by little he got used to them when I led him on leash. 
Whichever style you decide to go with, the pet steps have to be stable on the ground to avoid movement.   Stand beside the open stairs and lead your dog up and down them, patiently and with great reassurance. 
It took my dog probably 10 attempts before he started to get the hang of the steps.  But now, as you'll see in the video, he goes up and down either style easily as long as he's led on his leash.
Video Demonstration of my Dog Using Both Styles of Dog Steps for The Car
If the play button is not working, you can watch the video on youtube here: https://www.youtube.com/watch?v=bRQQTKN-R6w
If your dog isn't getting the hand of it, try a few times every day and coax them with treats if needed.  Once your dog gets used to the stairs, it will change the way you travel… all for the good!
Summary
Looking back, I guess I thought I'd have more advance notice that my big dog needed help getting into the car.   I imagined there would be clues or signs but that's not at all how it happened for us.  He just stopped jumping into the car that day we were heading home.  No clues, no warnings.
I suppose in retrospect, the fact that he has arthritis Should have been a clue to me.  So, if you have a large dog with arthritis and you go on road trips, car rides, vet visits, etc., my advice would be to prepare yourself now and train him or her now with one of these products. 
I have used all three of these products; I personally own two and highly recommend them for the following reasons:
My picky, tender footed, front heavy, 90 pound dog learned to use these products without issue. 
We love going on car rides and traveling to see family
It keeps my dog independent as we live with his ever-progressing spinal and hip arthritis
Here are my top picks one last time:
Best Pet Stairs for Senior Dogs (Side Door Entry)
Extra Wide Pet Steps by Pet Gear (link to product)
Best Pet Stairs for Senior Dogs (Back, Hatch Entry)
If you always ride with your dog in the back area and can afford it: Pet Loader (link to product)
If budget is a consideration go with the these options. They worked for my dog and are really easy to transport and setup.
Budget Friendly Car Steps for dogs up to 120 pounds (link to product)
Budget Friendly Car Steps for dogs up to 100 pound (link to product)
And for those of you interested in the Backseat Hammock for Dogs that you see in the video, I LOVE it! It's got a mesh front, non-slip backing and it has flaps that protect the door molding from slobber.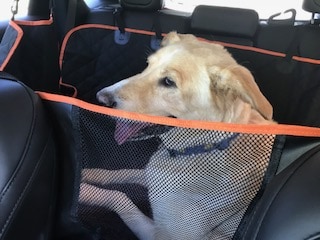 It was a huge upgrade from the old, thin one I had. Here is the hammock as seen in the video: Backseat Dog Hammock by iBuddy (link to product).
Thanks for visiting SeniorDogDays!