Some content may contain affiliate links to products which means we could earn a fee on your purchase. Thank you for visiting
If you're looking for NuLeaf Naturals CBD oil on amazon you should know two things:
You're not alone
You won't find it
Being a prime member myself, amazon is the first place I go for everything I need to purchase and I was extremely surprised to learn that NuLeaf Naturals wasn't being sold on amazon. But that's because amazon doesn't allow sellers to offer CBD oil in any form. Not CBD isolate, broad spectrum or full spectrum…nada.
But the good news is, you won't feel any pain by ordering from NuLeaf Naturals (LINK to Product) and they are very generously offering my website visitors 20% off your cart with coupon code: SENIORDOGDAYS
Plus….
NuLeaf Naturals Free Shipping
They (NuLeaf Naturals) is one of the few companies that give their customers totally free shipping and you don't have to spend a minimum amount in order to get free shipping: and that's a winner in my book.
Since Nuleaf Naturals ships fast and free no matter what size order you place; all of us prime members can relax. Seriously, I cannot remember the last time I paid for shipping so when I see a shipping charge my body recoils and 99% of the time I abandon my cart!
But with its free shipping, organic, and 100% pure Full Spectrum CBD oil (no filler oils) I believe NuLeaf Naturals is leaps and bounds ahead of all the other companies producing CBD oils.
Here is a picutre of a CBD oil that is mostly Coconut Oil vs. NuLeaf Naturals Pure Hemp CBD Oil. The CBD oil cut with coconut oil has 8.34 mg of CBD per mil. while Nuleaf has 50mg of CBD per mil. Look at the difference: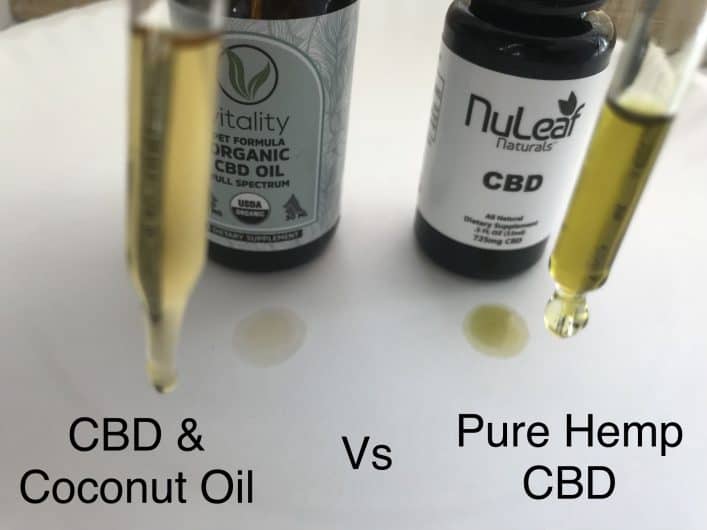 20% Promo Coupon Code for NuLeaf Naturals
If you're already using Nuleaf Naturals for yourself (or dog or cat), then you know how amazing it is and don't need to be convinced about how great they are. Here is their link: NuLeaf Naturals and remember they are offering my website visitors 20% off their order (no matter the size). Use promo code: SENIORDOGDAYS at checkout and you'll see the deduction.
NuLeaf Naturals Review
If you are not sure about CBD oil or are in the beginning or learning phase of CBD vs. Hemp and how they get confused with marijuana, please read our in-house article/review on: CBD vs HEMP vs Marijuana. You'll learn about the difference and why we decided to become affiliated with NuLeaf Naturals CBD oil over any other product.
My dog and I both take NuLeaf CBD oil for arthritis but arthritis relief is just the tip of the iceberg. CBD oil is used for lots of other reasons like anxiety, seizures, chronic pain and has been labeled as "promising" when studied in patients with cancer.
NuLeaf CBD Oil: How to Use
The dosage is included with the packaging and on their website. The bottle comes with an eyedropper and you squeeze out drops, one at a time, according to the dose. For instance dogs get 2-3 drops a day for every 20 pounds they weigh. You can put it on their tongue, rub it on their gums, or dispense in a little peanut butter or treat and feed it orally.
For humans, it's about 6-10 drops a day and you squeeze the drops under your tongue.
NuLeaf website shares a wealth of knowledge about their CBD oil and their process for extracting. They also have an amazingly helpful support staff that answers the phone. If you have any questions, NuLeaf staff answers calls 9am-5pm Monday-Friday (Mountain Time, they are in Colorado).
For instance, since my dog and I both use the product, I wanted to know if I had to buy the dog CBD oil, or if I could give my dog the human version and vice-versa.
I called NuLeaf Naturals and they assured me that whether I buy the pet version or the human version it's the same exact formula. They just specify dosage for dogs and cats on the pet version (based on body weight) and the human bottle is dosed according to human weight. But I could use the pet version and my dog could use the human version.
Thanks for visiting SeniorDogDays!