If you're considering Movoflex for dogs vs Dasuquin for dogs and want a quick but detailed comparison from someone who uses both; look no further.
In this article, I'll share my personal experience with both products (taken by my 12 year old dog) and point out the factors I found most helpful in making my selection. We'll use a quick table comparison and then discuss each topic contained in the table.
At the end of the comparison, I'll provide affiliate links to TWO online retailers that sell both Movoflex and Dasuquin. I recommend checking both places because you might hit a sale. They both ship fast so buy from the place that's selling it for less.
First, here is the table:
Quick Reference Table – Movoflex vs Dasuquin

Movoflex
Soft Chew

Dasuquin
Soft Chew
Link to Product
Product Link
Product Link
Active
Ingredients
Biovaflex (Eggshell Membrane)
Natural Astaxanthin
Hyalurinic Acid
Boswellia Serrata Extract
Vitamin D3
Glucosamine Hydrochloride
Sodium Chondroitin Sulfate
ASU Powder
Loading
Dose?
Not Required
4-6 Weeks
Suggested
Dosage
Formulas
3 Formulas
Dogs Over 80lbs
Dogs 40-80lbs
Dogs Under 40lbs
2 Formulas
Dogs 60-120lbs
Dogs 10-59lbs
Packaging
Rigid Jar
Foil Bag
Pride
Labels
Made in USA
No Sugar
No Shellfish
No Salt
Made in USA
NASC
Quality Seal?
Yes
No
Flavor
Method
Chicken Meal &
Dried Chicken Liver
Unspecified
Natural Flavors

Loading Dose: Movoflex vs Dasuquin
A loading dose means you give your dog about twice the normal dose for a certain period of time in an effort to "load" your dog with the supplement.
Movoflex for Dogs
Movoflex does not require a loading does, you simply start giving your dog one chew per day and many dog owners report improved mobility (including me) in just a few days.
Dasuquin for Dogs
Dasuquin DOES require a loading dose. The maker suggests you give your dog about twice the amount (depending on their weight) for the first 4-6 weeks.
Because of this loading dose requirement, Dasuquin is not really cheaper than Movoflex in the first year. And if you're hoping for visual results sooner rather than later, I think you'd be happier with Movoflex.
Active Ingredients: Movoflex vs Dasuquin
It's pretty rare when you compare 2 joint supplements for dogs that have zero cross-over or duplication of active ingredients, but here we are! This is one of those rare instances and frankly it's because Movoflex is so unique.
Of all the products I've used which include Movoflex, Dasuquin, Dasquin Advanced, Flexadin and Zesty paws, Movoflex is the only one that doesn't use any of the 3 "typical" ingredients: glucosamine, chondroitin, and msm. Maybe that's why it works so fast?
But here's the thing, since Movoflex and Dasuquin offer entirely different active ingredients, you could conceivable give one supplement in the morning, and the other supplement in the evening without the fear of overdosing a particular ingredient. That's hard to do with joint supplements.
Allergens/Diet: Also noteworthy – If your dog has a salt restricted diet or is allergic to or bothered by shellfish, you should avoid Dasuquin.
Dosing Formulas: Movoflex vs Dasuquin
Movoflex has 3 different formula offerings. You buy the right formula and feed 1 chew per day. The formulas are:
Over 80 lbs
40-80 lbs.
Under 40 lbs.
Dasuquin has two offerings and you either give 1 or 2 chews based on your dog's weight. Dasuquin regular formula offerings:
This is about the only category where I think Dasuquin has the advantage and that's only IF you have multiple dogs at close, but different weights because they could potentially share the same bag.
Now let's talk about the NASC designation, just in case you're not familiar with the quality seal labeling.
NASC Member-Movoflex vs Dasuquin
What's the NASC? Established in 2001, the NASC (National Animal Supplement Council) is a non-profit trade organization dedicated to the issues surrounding health supplements targeting dogs, cats and horses. When you see the NASC quality seal, it means the the maker completed a comprehensive audit and:
"NASC created the Quality Seal as a way for consumers to know that when they buy a product, they buy from a reputable manufacturer. Only NASC member companies operating under the stringent guidelines of NASC for manufacturing, labeling and adverse event reporting, and demonstrating responsible participation are permitted to use the NASC Quality Seal."

Direct From NASC Website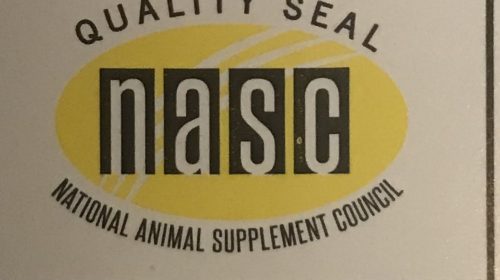 Movoflex and the NASC
Movoflex is made by Vets Plus for Virbac AH. Both Vets Plus and Virbac are members of the National Animal Supplement Council. Both have the green light to use the NASC Quality Seal and Movoflex proudly displays the NASC Quality Seal.
Dasuquin and the NASC
Dasuquin is made by Nutramax. Nutramax at the time of this writing is not a member of the National Animal Supplement Council and cannot display the NASC Quality Seal.
Now the NASC Quality Seal isn't the only factor I use when deciding whether or not to at least "try" a product, but when I see the Quality Seal, it definitely moves to the top of my list.
Packaging of Movoflex vs Dasuquin
This is kind of a big deal for me because I've had the unfortunate problem of Dasuquin soft chews going hard.
Movoflex: comes in a screw lid jar and the chews stay soft the entire time (2 months).
Dasuquin: soft chews come in a foil bag that is susceptible to airleak if you don't get that zipper 100% sealed…alas, hard chews that my dog won't eat. To preserve my investment, I double bag Dasuquin, which frankly; I find annoying
Now let's talk about the flavoring used so that our dogs eat it without issue.
Flavor of Movoflex vs Dasuquin
Movoflex list's Chicken Meal and Dried Chicken Liver as its first 2 inactive ingredients whereas Dasuquin lists "natural flavor" as it's 5th or 6th ingredient.
My dog devours Movoflex immediately as he would a tasty treat. As for Dasuquin, my dog usually carries the chew off to his bed for further sniffing before consumption.
Bottom line: my dog will eat both chews without having to smear peanut butter or other form of enticement but my dog really loves Movoflex.
Cost of Movoflex vs Dasuquin
I found Dasuquin to be cheaper (per chew) overall, but since it requires a loading dose I can't say I saved money in the first year. Therefore, for at least the first year they cost me about the same and perhaps Movoflex was even slightly cheaper. Both products are priced per your dog's weight.
As per usual: big dogs cost more and that includes my 90 pound senior. Both products are what I call "competitively priced" and neither product is cost prohibitive.
Summary: Movoflex vs Dasuquin
My Choice: I've used both Movoflex and Dasuquin with success. I continue to use Movoflex every day (it's my dog's nightly treat) and my dog has been on it over a year. If I had to choose one over the other it would definitely be Movoflex all the way for helping my dog's arthritis.
When you use the links below to see the products for yourself, you'll notice other dog owner agree that Movoflex is helping their arthritic dog.
Reason for My Choice: While there is nothing wrong with Dasuquin, I find the ingredients to be very typical and I am able to give my dog most of Dasuquin's active ingredients in human form supplements which ends up costing a lot less.
I simply wrap human grade Glucosamine, Chondroitin and MSM pills in cheese or peanut butter and give daily for a fraction of the price.
HOWEVER: if you think wrapping pills in peanut butter or cheese is a pain, then there is nothing wrong with Dasuquin Regular chews or Dasuquin with MSM chews.
I keep a supply of Dasuquin because I travel. When I leave my dog with a dog sitter it's easier for my dog sitter to administer a Dasuquin chew than human grade peanut butter wrapped pills.
If your vet is recommending glucosamine, chondroitin or ASU for your dog, Dasuquin is a very easy form of delivery, I just recommend double bagging to preserve the chews from hardening.
My Dog's Arthritis: My senior dog is just over 12 years old and 90 pounds. He's losing muscle in his hind legs and suffers from hip and spinal arthritis. I truly believe his supplements (and exercise) are keeping him mobile and as pain free as possible.
Movoflex is great if you're looking beyond the typical, easy to find ingredients found in most dog joint supplements. And if you've used typical products without success, definitely give Movoflex a try. Aside from having the NASC quality seal, I saw noticeable improvement in my very arthritic dog after just 3 days…others report the same.
I hope you've found this comparison helpful. If you're ready to make a decision, you can click these links to be taken to current pricing and see what other dog owners are saying in their reviews.
I'll include links to two places so you can comparison shop, remember to factor any shipping if it's not free:
Where to Buy Movoflex
Click Here to Check Amazon Price: Movoflex for Dogs
Click Here to Check 1800PedMeds Price: Movoflex for Dogs
---
Where to Buy Dasuquin (Regular and MSM)
Click here to check price on Amazon: Dasuquin for Dogs
Click here to check price on 1800PedMeds: Dasuquin for Dogs
Thanks for visiting SeniorDogDays!