Some content may contain affiliate links to products which means we could earn a fee on your purchase. Thank you for visiting
Wondering if your 7 year old dog is a senior? According to national averages regarding life expectancy of dogs based upon their breed size
A 7 Year Old Giant Breed Dog is definitely a Senior Dog
A 7 Year Old Large Breed Dog is definitely a Senior Dog
A 7 Year Old Medium Breed Dog is usually a Senior Dog
A 7 Year Old Small Breed Dog could be a Senior Dog
A 7 Year Old Toy Breed Dog is very close to being a Senior Dog
The 7 year old rule definitely has dog owners wondering the magic number for when their dog will be considered a senior.  Unfortunately (or fortunately) your dog's overall health will help decide whether or not your 7 year old dog is a senior.
Regardless of whether or not your 7 year old dog can wear the title of "senior dog" this is a good age to make a few commitments, if you haven't already.
7 Commitments to Mark the 7 year Old Dog Milestone
Blood Panel
If you've never had the need to run a blood test on your dog, consider yourself lucky.  As our dogs enter their senior years, they can do a really good job of hiding their pain. To compound matters, we are not yet experts at reading the signs or understanding symptoms.
A full blood panel might catch a problem early enough to start treatment and there's nothing wrong with getting an "all clear".
Best Diet You Can Afford
Recall, after recall, after dog food recall.  It's enough to drive any pet parent absolutely crazy. Used to be you could count on the higher end dog food companies but tainted meat, contaminated vegetables and inaccurate amounts of spray on vitamins means every food is susceptible.
Diets that lack nutrients or are filled with fillers are really just hunger suppressors and not doing much in the way of providing optimal health. 
Give your senior dog the highest quality food you can afford and even consider taking the reins with a homemade diet. If you've ever considered raw, I wrote an in-depth article that discusses raw diet for senior dogs and beginners (link).
Tackle Dental Hygiene
Your dog's dental hygiene will not improve as they age and now is a great time to talk to your veterinarian about a cleaning.  In addition, beginning an active teeth brushing and wiping regimen at home can virtually eliminate the need for future cleanings.
Believe me, once your dog is deep into their senior years you will not feel good about putting them under anesthesia for a dental cleaning.   
Start now and commit to a daily wiping or brushing. You can learn even more about senior dog mouth hygiene in this post:  Senior Dog Bad Breath
Get Serious About Exercise
One of the best ways to keep a senior dog pain free and mobile is to keep her exercising.  Now that your dog reached the 7 year old milestone it's time to step up your exercise game.
Our dogs are very much like people.  The more we sit around and do nothing, the stiffer and achier our bodies become.  Capable dogs should be out walking every day. 
One thing to note here is that an exercising your dog is not the same as a bathroom walk.  An exercising walk involves a short leash, constant pace and no sniffing/marking.
Spring for an Eye Checkup
Most regular veterinarians will only catch senior dog eye problems when they are obvious.  For instance, they visually see a spot or your dog's eye is noticeably cloudy.  However, there are eye problems and diseases that don't present visually.
An eye doctor visit at the 7 year old milestone is a smart way to celebrate.
Take Nail Grooming Seriously
Our young, active dogs may have their nails filed naturally by concrete or pavement.  But as our dogs walk less, or less actively, the automatic nail filing stops. 
If dog nails are allowed to touch the ground, they will begin to impact comfort and mobility.  For a complete review on the importance of senior dog nail grooming you can CLICK HERE
Buy or Make a Quality Dog Bed
A quality dog bed for a senior is one that she can get in and out of easily and provides ample cushion. Hardwood flooring, ceramic tiles and even wall to wall carpet shows no mercy on an older dog's inflamed, aching, protruding joints and sleep comfort will be a senior dog's top priority. 
Senior dogs that are made to sleep on hard surfaces or inferior bedding will likely show a sharper decline in mobility and suffer pain and stiffness due to excess cold.  Hard surfaces can also cause calloused elbows (from getting up) and fur loss.
Make an effort to get your senior dog his very own comfortable bed and one that's the right size.  His bed should be long enough to contain him in a sprawled out sleeping position and about 2.5 times as wide as his girth.
Congratulations on your dog turning 7 years old!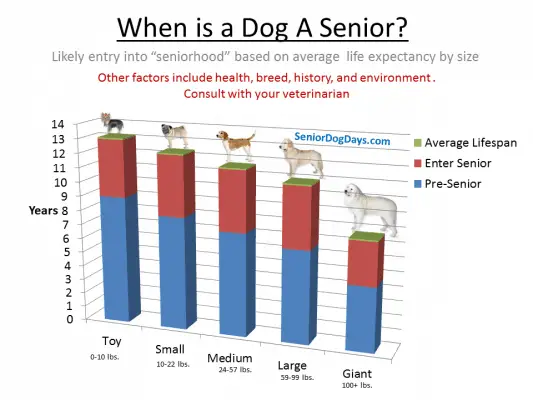 For a more comprehensive discussion as to whether or not your 7 year old dog is a senior dog, you can read this detailed post: Is my Dog Old? or click the graph to be taken to the article.