Some content may contain affiliate links to products which means we could earn a fee on your purchase. Thank you for visiting
Whether you've got a brand new puppy, caring for a senior dog or anything in between one thing is for sure:  Dog products take a big bite out of monthly budgets because they are EXPENSIVE!  In this article, I'm going to share How to Get Free Dog Stuff without doing surveys or saving reward points so that EVERY DAY is Christmas!
These free dog products range from arthritis supplements, leashes, collars, dog beds, crates, car hammocks, bowls, food, treat-dispensing toys, hemp products and more….and they are all regular size (not trial or sample size).  Here is a sample of what I've gotten for free:
Hemp Chews for dogs – regular price $34.99. My cost=FREE
Dog Car Hammock Sling-regular price $34.99. My Cost=$3.65
Pet Urine and Stain Remover-regular price $19.99. My Cost=$1.00
Leather Buckle Collar – Regular Price – $35.00. My Cost=FREE
Dog Hide Treat Blanket – Regular Price $15.99. My Cost=Free
Large Dog Teeth Cleaner – Regular Price $12.99. My Cost=FREE
Turmeric for Dogs – Regular Price – $24.95. My Cost=Free
Paw Cleaning Wipes – Regular Price $15.99. My Cost=.59 cents
There are lots of other free dog products listed that I personally don't need, but maybe your dog could use a free flea collar or small dog bed?  This site is really amazing and half the fun is that you never know what is going to pop up for free because there are a wide range of products.
Free Dog Stuff AND Household Items
Aside from all the Free Dog Stuff (or steeply discounted), I've gotten loads of free stuff for my home as well.  The most expensive thing I've gotten was a Free Chef's Knife (Retails for $80.00) and my favorite discounted item that I use almost every day, is a 6 quart instant cooker for $9.50 – yes that's nine dollars and fifty cents which retailed for $79.  I've also purchased steeply discounted weighted blankets ($8.00), copper bottom pans ($1.95) and I've gotten lots of essential oils, face soaps and electronic gadgets for FREE.
Where to Get Free or Cheap Dog Supplies
The website is called RebateKey.com (affiliate link).  It is free to join – absolutely ZERO membership fees and no surveys or reward point schemes.  All of the sellers who list a product on RebateKey's website must pre-pay their rebate to RebateKey in order to list the product.
Rebatekey holds the rebate money in their own account.  As long as you don't return the item, RebateKey releases the rebate to you in the form of a check in the mail or they deposit the rebate into your paypal account.  It's that easy.
How Is it Possible to Get Free Dog Supplies?
I thought the same thing and so the first time I tried it, I bought one free item and waited for my rebate to arrive.  Ever since then, I've never questioned their legitimacy.  RebateKey is the real deal, no strings attached and here are a handful of rebate checks I've received:
Most free products are offered by sellers who list on amazon and Walmart and they will be shipped to your home just like a normal purchase.  
Why Would a Seller Give Free Dog Products?
From what I understand,  3rd party sellers on amazon and Walmart are always trying to improve their placement rankings on those websites and part of the formula is how many products they sell.  So, they offer free (or nearly free) rebates to increase sales.  That, in turn, gives them a better ranking which leads to much higher sales volume in the future.
The fact that they have to pre-pay RebateKey means the seller cannot deny the rebate, unless you returned the item.  If you return the item, you cannot qualify for the rebate.
How to Get Free Dog Supplements
Once you visit RebateKey's Website (link to website)  you can find dog treats by typing "dog supplements" into the search box.  Or you can search dog treats too.
This will show you all the current dog related treats and supplements that are currently being offered…most for free.  Here is a sample screenshot for the current search results, but keep in mind, these offerings change every hour or so…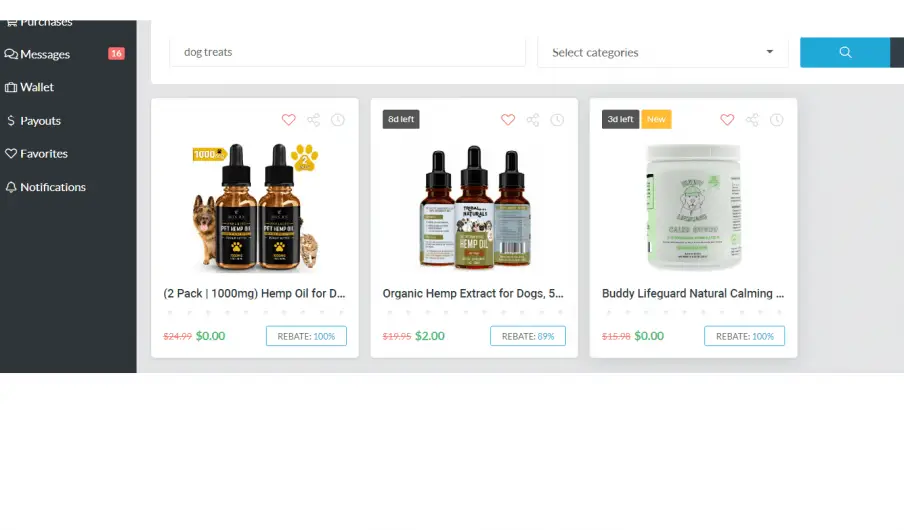 You can also sort and look for just the free things, or you can select categories.  It's very user friendly and it will take you just one or two times to get the hang of it.
Here are Some Free Dog Products We Just Missed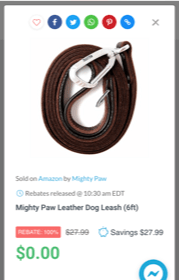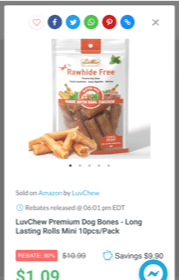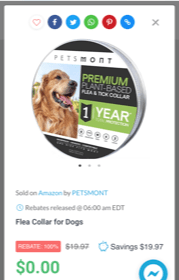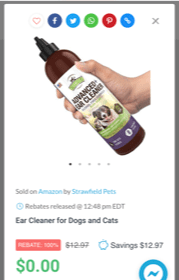 If you do miss a product, there is a button you can click to notify you when it comes back on. There is no guarantee it will come back, but from my experience, they do.
Free Pet Products Without Surveys
Dog food, treats and products are really expensive and I have been known to complete surveys for free dog products.  RebateKey is a game changer.  It is the only site I've ever been to that really asks for nothing up front and doesn't make you earn rewards.  You simply buy a product that is offered (usually on amazon, sometimes on Walmart).  As long as you don't return the product, you will get your rebate money from RebateKey. 
Here is a summary of the process:
Buy any product you want as instructed
After you buy the product, enter the order number  into the rebate key slot titled "order number, Confirm purchase" – the order number is the number that is given to you by amazon or Walmart. 
Once you enter the order number, you'll see "approved funds"
Wait for the product return window to expire
RebateKey automatically sends the rebate to you…you do NOT have to ask for it.
It's worth mentioning that you are not obligated to keep the item.  You CAN return the item and of course, you will not get the rebate because you'll be getting a refund.   You are also under no obligation to write a review for the product, though that is always nice…especially if you like it.
How to Get Free Dog Stuff – Summary
I wrote this article only after giving RebateKey a try and making sure it was legitimate.  It is!  My mom and several friends are also enjoying the free and nearly free offerings and I highly recommend them for saving money on Dog Supplies.  They do have an affiliate program too, which I joined, and they have all kinds of promotions like "take a picture with your check and get $20.  I'm too shy to do that…but maybe you're not?
Anyway, RebateKey.com (link to website) is legitimate and I have yet to have a rebate be rejected.  Follow the rules, don't return the item and you too can be getting free dog products and other household goods.
Thanks for visiting SeniorDogDays!