Some content may contain affiliate links to products which means we could earn a fee on your purchase. Thank you for visiting
After months of in depth research for quality CBD, we settled on 2 brands of Full Spectrum, Organic, CO2 Expressed CBD, to try on our arthritic, 90 pound senior with muscle degeneration.
Now, our 15 year old dog has been using both of these CBD products since 2019 and we are absolutely thrilled with the results, especially that of Nuleaf Naturals Pet CBD.
Because we believe in both products, SeniorDogDays teamed up with our our favorite CBD makers and we can now bring you savings!
1st Place Pet CBD – Our Favorite
 Nuleaf Naturals Pet CBD Oil (link to product)
Use promo coupon code SENIORDOGDAYS at checkout and save on your purchase.
Here is a picture of how to order, and how to do a one time purchase vs. monthly subscription…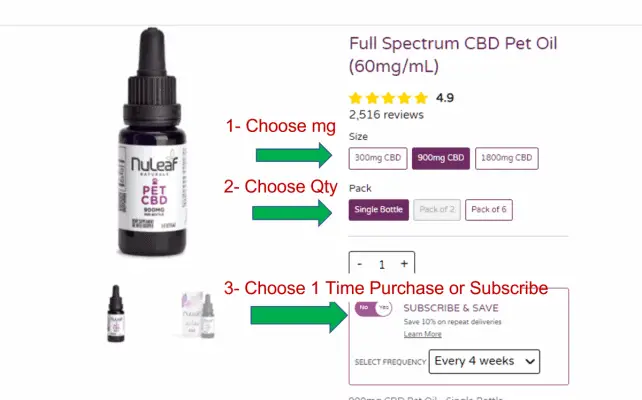 Runner Up CBD
Holistapet CBD Treats & Capsules (link to product)
When you enter our website name SENIORDOGDAYS as a coupon code, you will SAVE money on your first order and it will qualify us for a referral fee (this helps us buy it for our senior dog too). The code costs you nothing to use and everybody wins!
Our Research to Find the Right CBD
No doubt, Nuleaf Naturals Pet CBD helps our senior get through his therapy! You can read all about CBD journey through these articles that were written when he was 12 years old.
Why Pick Nuleaf or Holistapet and NOT Ellevet – Full Review